7 Conversation Habits Of People Who Successfully Attract Long-Term Partners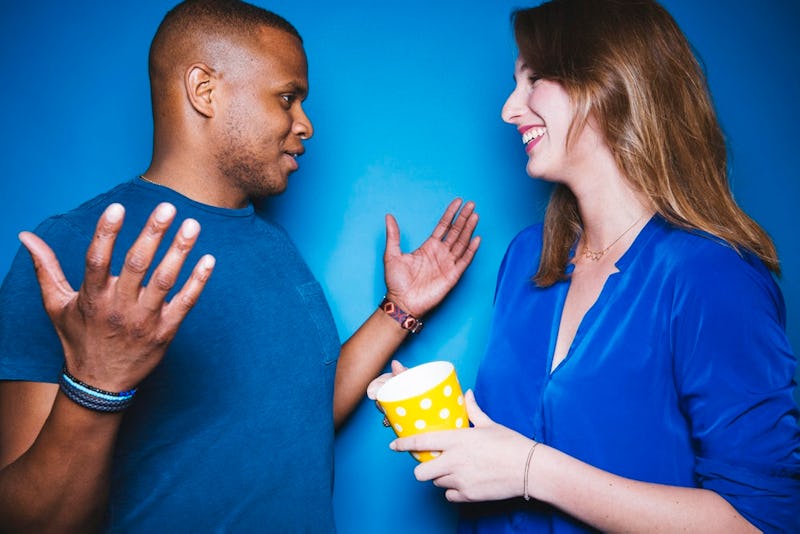 BDG Media, Inc.
The best way to successfully attract a long-term partner has nothing to do with your physical appearance or what color you choose to wear on a first date. It's way more substantial than that. According to a 2016 study of 390 adults published in the journal Sexuality & Culture, the number one thing that makes a first date successful is good conversation. So if you really want to attract a quality partner who's in it for the long haul, your conversation habits could be key.
"Intellectual chemistry is one-third of a healthy relationship chemistry along with friendship and physical attraction," Psychotherapist and Relationship Coach, Toni Coleman, LCSW, CMC, tells Bustle. "For some, good conversation weighs more heavily than the other two, for others, not as much. But there always needs to be some measure of it if a relationship is to grow and stay interesting."
Having good conversation habits may be one of the more overlooked traits to have when it comes to attraction. But according to licensed marriage and family therapist, Allen Wagner, LMFT, it really shouldn't be. "Conversation skills are important to any relationship because they play such a key part in a couple's ability to meaningfully collaborate with one another in the future," Wagner says.
When you're dating with the end goal of being in a committed relationship, it's all about finding a good connection. One of the best ways to tell if you and the other person has a connection is through conversation, so here are some conversation habits of people who successfully attract long-term partners: