7 Criminal Justice Podcasts For When You're Done Marathoning 'Orange Is The New Black'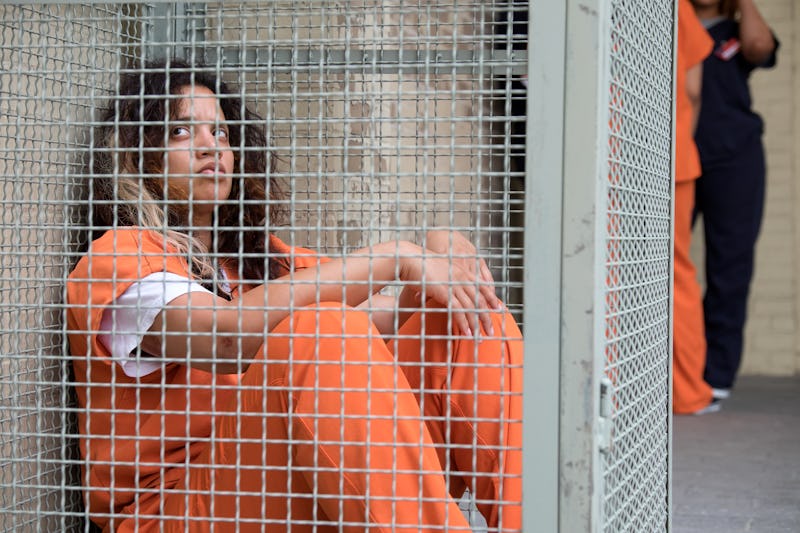 Cara Howe / Netflix
There's really no shortage of podcasts about crime and criminal justice, and as Orange Is The New Black debuts its sixth season, fans will be nursing a renewed interest in the system that's imprisoned some of Litchfield's finest. The newest batch of OITNB episodes focuses heavily on guard mistreatment, as past seasons have, but also details the struggles of actual cases, trials, life after prison, and the relationships between the accused and their lawyers. Below are some of the best criminal justice podcasts you can listen to that'll give you even more context to the real-life journeys that inspire some of OITNB's content, because once there's a long time to wait for another season of the Netflix show, most likely.
True crime podcasts as a whole can be pretty habit forming, but many of the more popular ones focus solely on grisly crimes and murder mysteries, not inmates, trials, or the criminal justice system as an overarching entity that's actually made up of plenty of people who aren't perpetrators of violent crimes, or who are sometimes wrongly accused.
The following podcasts give a closer look at the system as a whole — whether that means investigating faulty trials and lackluster attorneys, questioning the problems inherently ingrained in some of laws an legal processes, and celebrating those who successfully make it out of the system and have gone on to live their best lives and help others.