7 Ways To Tell The Difference Between Trust Issues And Bad Gut Feelings In Your Relationship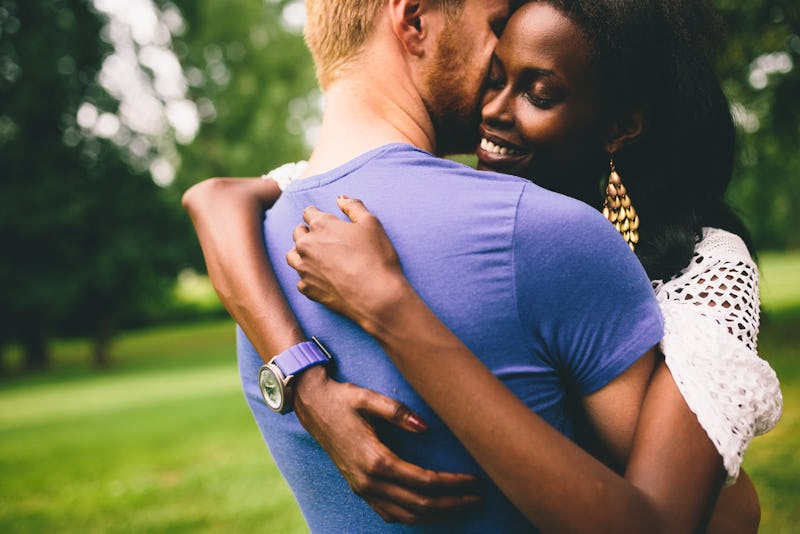 Goran Bogicevic/Shutterstock
If you've ever felt a twinge of distrust for someone, but couldn't quite figure out why, it's possible that you've tried to figure out whether you're experiencing trust issues or a more deeply-rooted gut feeling. Differentiating what trust issues mean, versus what your intuition may be trying to tell you when you get into a relationship, can be quite confusing. Therapists, however, know some tricks to help.
Trust issues can be incredibly powerful because trust itself is foundational to romantic relationships. "Trust is a necessary component in maintaining any interpersonal relationship," therapist Adina Mahalli, MSW, tells Bustle. "Without it, there is no foundation. The problem is that your past experiences play a role in shaping who you are. This makes it easy to mistake trust issues as your 'gut feeling', when really, it's just your emotions from past experiences sounding the alarms." Exploring your assumptions and knee-jerk reactions when getting to know someone new can help you distinguish these emotions.
If you do end up recognizing that you may be experiencing trust issues in a relationship, you can find ways to deal with these problems through self-reflection, open communication in your relationship, or the support of a trusted mental health professional. Having difficulties with trust is not a character flaw, and you deserve to be able to feel comfortable with your intuition in relationships.
Here are seven ways to differentiate between trust issues and going with your gut in relationships, according to therapists.