7 Meditations To Keep You Relaxed During November's Powerful New Moon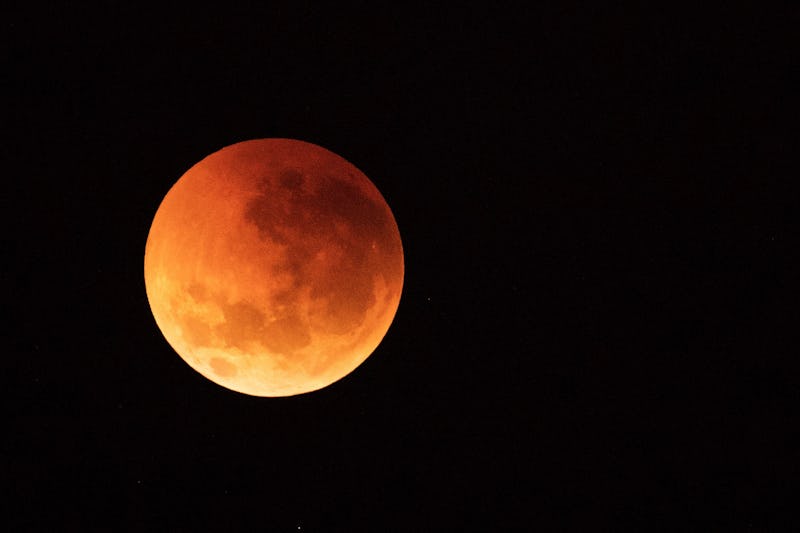 Cameron Spencer/Getty Images News/Getty Images
The first week of November delivers us a dark sky thanks to the Nov. 7 new moon in Scorpio. Whatever happened in the beams of Oct. 24's full moon might be treated to some deep reflection and resolution in the dark. If the intensity of a Scorpio new moon is already stirring a headache, don't worry, there are meditations for the Nov. new moon that will guide you through this lunar transition. And then the only thing that will be stirring is sugar into a calming cup of chamomile.
Halloween might be over, but the cobwebs from October's full moon and, you know, all those never ending retrogrades are still lingering. It's time to take a spiritual duster and do some late fall cleansing so we can forge forward into the new lunar cycle, new month, and soon a new year.
New moons are about starting something fresh, but with Scorpio's energy, it can be more about clearing the way. Just as you would shovel snow from a sidewalk. But before we can manifest and skip ahead to the resolution, we must face the climax. According to Forever Conscious, "While things may come to a head on this new moon, it is likely that this climax will lead to a resolution and a way to move forward and find forgiveness." When we say sorry — whether to ourselves or to someone — it allows us to move on. Don't worry, there are meditations for that.
As the November new moon kicks off the next lunar cycle and our spiritual path forward, we'll have to deal with the dark before even getting a stream of illumination from a smart phone flashlight on the positive path forward. So, plump up your most beloved meditation cushion and conjure YouTube to your screen. There are multiple meditations that can sweep you through this new moon in Scorpio — and sweep up those proverbial cobwebs.