7 Most Common Tattoos People Get After A Breakup, According To Tattoo Artists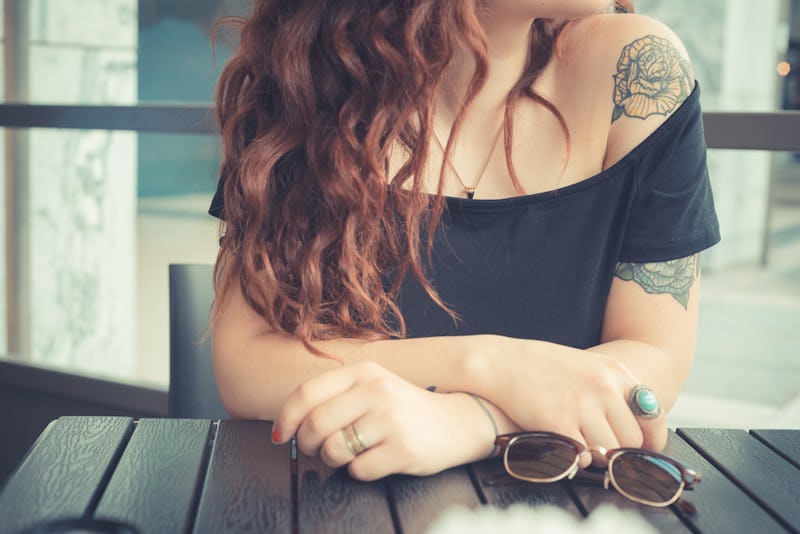 Eugenio Marongiu/Shutterstock
Getting a tattoo after a breakup can be cathartic. Tattoo artists see people coming in after the end of a relationship all the time. Through it, they've learned what the most common breakup tattoo ideas are, and a little bit of why.
Getting a tattoo after a breakup can be a healing experience. Physically and metaphorically, it can be a way to release pain. "As per my experience, typically people get tattooed or pierced after a breakup, myself included," Jason Ackerman, Resident Artist at SOHO Ink, tells Bustle. "Many use tattooing and piercing as an outlet to purge built up, stored energy or pain. Instead of feeling the pain emotionally they would rather feel the pain physically in a safe, self-expressive way." As long as you don't make the decision to get your tattoo in a state of emotional recklessness, the decision can be quite empowering.
This tattoo can be a lasting symbol for what you learned from this breakup for the rest of your life. "A 'breakup tattoo' is a symbolic badge for some who really want to wear their heart on their sleeve," Lisa Barretta, author of Conscious Ink: Mythical, Magical, And Transformative Art You Dare to Wear, tells Bustle. "In other instances, a break-up tattoo can represent newfound freedom. Only the wearer can determine what emotional energy they want imbued into their ink." Getting a tattoo can be quite spiritual, and getting it in a moment like the aftermath of a breakup can really amplify that.
Here are the seven most common tattoos people get after a breakup, according to tattoo artists.