7 Movie Musicals Coming Out Soon That'll Have You Singing Along To The Soundtrack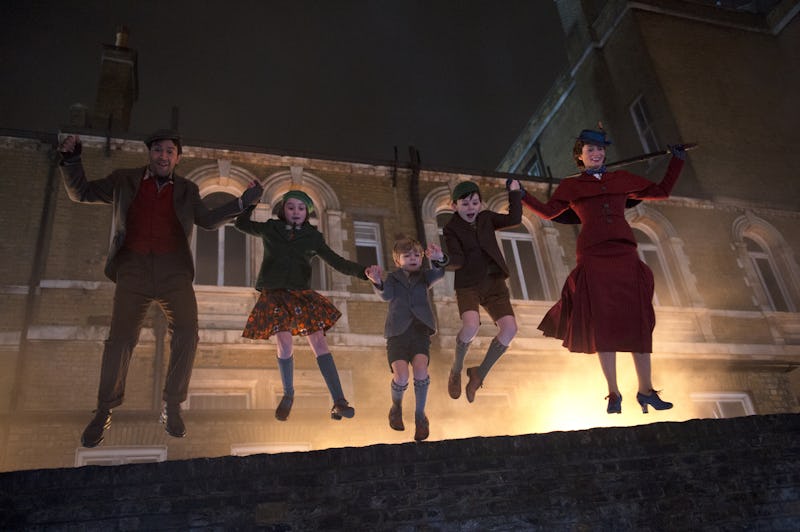 Disney
Ever since the film adaptation of the stage musical Chicago won Best Picture at the Oscars back in 2003, movie musicals have had a resurgence of the kind not seen since their 1950s heyday. And it's not just adaptations of stage shows that have been making their way to the big screen. Original musicals and movies simply featuring song and dance have elevated the genre into something new. The past decade has seen classic musicals like Sweeney Todd, Into the Woods, Les Miserables, Mamma Mia!, and Hairspray hitting the big screen, with originals like the Pitch Perfect franchise, La La Land, Sing Street, and The Greatest Showman on their heels trying to claim a space. And looking forward, there are several exciting movie musicals out in 2018 and beyond, too.
Of course, the inspiration goes both ways. Popular movies are also a prime area in which to mine for musical ideas. Newsies, Once, Legally Blonde, Waitress, Anastasia, Mean Girls, Big Fish, Elf, Finding Neverland, Frozen, The Wedding Singer, and Groundhog Day are just a few Broadway shows that have their roots in the cinema. Moulin Rouge! just opened up its preview run before heading to Broadway, and many others are in various stages of prep. Then there are musical biopics that include some of the original artists music. Movies like Straight Outa Compton, Get On Up, and Love & Mercy feature a ton of music, though they may not be called musicals in title. So it doesn't look like the new era of the movie musical is going away any time soon, and that's great news considering how promising these upcoming movie musicals look.
1. A Star Is Born (Oct. 5)
The story of A Star is Born can basically be adapted for any genre of music and through any time period, which is what makes it such a popular story to remake. This Bradley Cooper-directed version marks the fourth time it's been done, with the most famous versions having starred Barbra Streisand in 1976 and Judy Garland in 1954. This time, pop star Lady Gaga steps into the shoes of Streisand and Garland.
2. Bohemian Rhapsody (Nov. 2)
Mr. Robot's Rami Malek takes on the role of Freddie Mercury in this biopic of the Queen frontman. With the trailer alone playing tons of Queen songs, you can expect that the movie itself will dive further into the music while telling Mercury's inspiring story.
3. The Nutcracker And The Four Realms (Nov. 2)
OK, maybe you won't be singing along to this one, but humming Tchaikovsky's famous ballet tunes isn't out of the question. This fantasy film stars Mackenzie Foy as Clara, alongside Keira Knightley, Helen Mirren, and ballet star Misty Copeland, who performs the dance sequences in the movie.
4. Anna And The Apocalypse (Nov. 30)
This feature length adaptation of the 2010 BAFTA-winning short Zombie Musical finds high school students fighting for their survival and singing along to a zombie apocalypse. Sounds like a cult classic in the making.
5. Mary Poppins Returns (Dec. 19)
Emily Blunt takes on Julie Andrews' iconic role in this sequel to the 1964 musical classic. Hamilton wizard Lin-Manuel Miranda stars as a chimney sweep-looking chap named Jack, while Emily Mortimer and Ben Whishaw play adult versions of Jane and Michael Banks. Blunt showed off her singing chops back in the movie version of Into the Woods. Let's see if she can hold a candle, or should we say, a carpet bag, to Julie Andrews.
6. Vox Lux (TBD)
Natalie Portman stars in this musical drama about the rise of a pop star, with music written by Sia. The film is premiering at the 2018 Venice Film Festival in September, so there's a good chance we'll see this one in theaters before the end of the year, just in time for awards season.
7. Dumbo (Mar. 29, 2019)
It's still unclear whether or not this Tim Burton adaptation of the Disney classic is a musical in the traditional sense, but since the trailer does feature the iconic song "Baby Mine," perhaps we'll also be hearing more from the movie.
Later on in 2019, audiences will get even more movie musicals, live-action updates, and stage show adaptations. In the pipeline are the movie version of stage mega-hit Wicked plus Disney's Aladdin, directed by Guy Ritchie and starring Will Smith as the Genie, as well as The Lion King, directed by Jon Favreau and starring a zillion famous people (including Beyonce). And looking ahead to 2020, we'll get not only the live-action adaptation of Mulan, but also Lin-Manuel Miranda's movie version of In the Heights and Steven Spielberg's adaptation of West Side Story.
Considering the large amount of musical-themed recent announcements, like the Cats movie starring Taylor Swift, a movie version of Spamelot, and Lin-Manuel Miranda at it again with a film adaptation of Jonathan Larson's Tick, Tick Boom!, it seems that we might be living in yet another movie musical heyday.