Taylor Swift Is Starring In The Most Taylor Swift Movie Musical Ever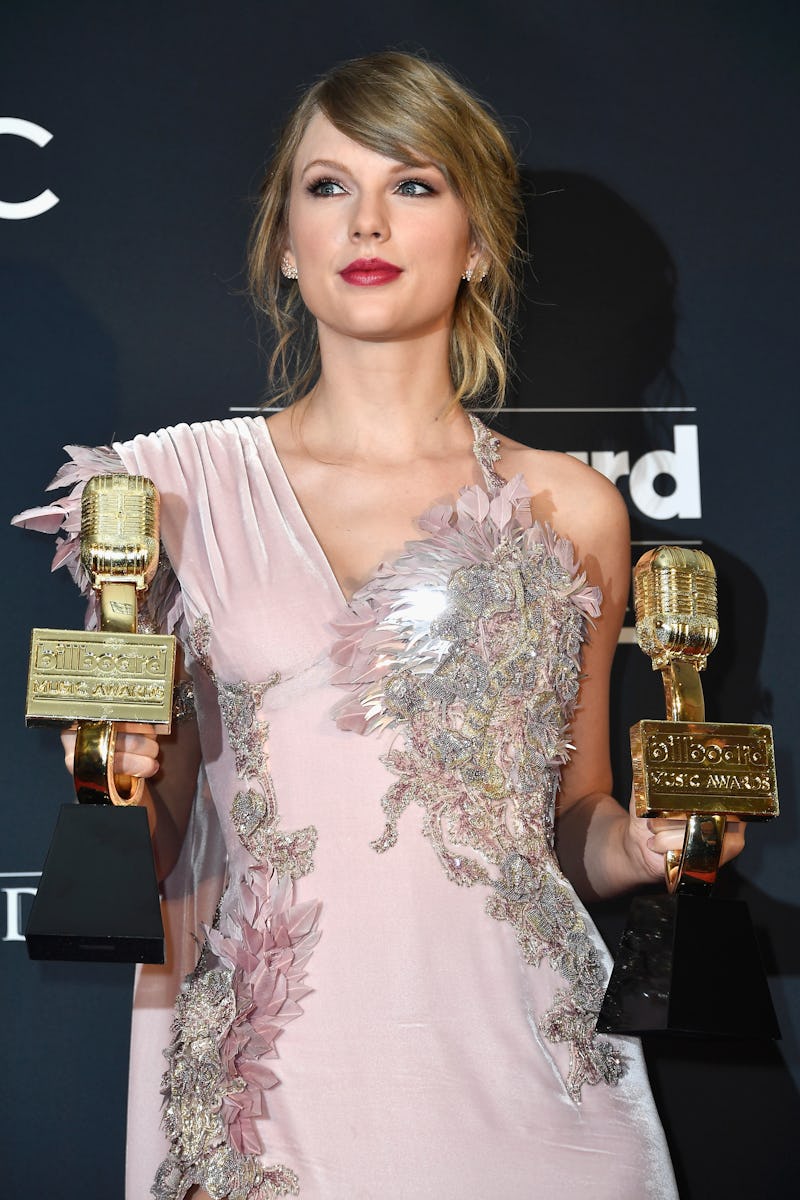 Frazer Harrison/Getty Images Entertainment/Getty Images
For an example of what it means to go all-in on a hobby, look no further than the fact that Taylor Swift will star in the upcoming Cats movie. Talk about taking your love of felines to the next level. As you might have guessed, this project is based on the wildly successful Andrew Lloyd Webber musical of the same name. And while there's no word yet about exactly which character the pop star will play in the nascent project, there's no doubt that her own furry friends Olivia Benson and Meredith Grey will be there to proudly support her every step of the way. (Whatever "proud support" looks like for cats — presumably it involves some angry tail-twitching and refusing to touch their dry food without some sort of treat on top.)
Production isn't scheduled to start on Cats until later this year, but the project has been in the pipeline for a while now, and understandably so. According to The Hollywood Reporter, Cats held the record for the longest-running show on Broadway, where it played for nine years straight from 1997 to 2006. Today, it's slid to fourth place, behind The Phantom of the Opera in first, Chicago in second, and The Lion King in third, but the Jellicles-centric show's 6,138 performances on Broadway and 8,949 on London's West End are still massively impressive.
It was only a matter of time before things started to come together to bring the musical to the big screen, and July 20 brought new details to light about the proposed blockbuster. For one thing, it will be directed by Tom Hooper, who also tackled 2012's Les Miserables, which gave him experience in adapting musicals for the silver screen, and also netted his two lead actors Hugh Jackman and Anne Hathaway an Oscar nomination and a win, respectively. (In addition to a Best Picture nom for the project overall, as well as a slew of other awards.)
Hooper was also at the helm for 2015's The Danish Girl and 2010's The King's Speech, both of which received Best Picture nominations, and the latter of which won Hooper an Oscar of his own with a Best Director win.
In short, the Cats production is not playing around, and the cast bears that out as well. It was announced Friday that Swift will be acting alongside industry heavy-weights Jennifer Hudson, James Corden, and Ian McKellen. And while Corden and McKellen's roles remain as mysterious as Swift's so far, it's been revealed by Variety that Hudson will be playing Grizabella, the fallen "glamour cat" who sings the show's most recognizable number — the show-stopping "Memory."
But even though her fellow castmates are coming in with credits on credits on credits, it's arguable no one could be better prepared for a role in Cats than Swift. She's so infamously devoted to her cats Olivia and Meredith, a pair of Scottish folds named after her favorite characters in Law and Order: Special Victims' Unit and Grey's Anatomy, that fans sometimes hold up posters of them in the audiences at the pop star's shows. In fact, Swift even told Rolling Stone in 2013 that she has to work hard to stay focused during concerts when she catches glimpses of Meredith in the audience:
"There will be people who just make a giant, huge picture of my cat's face, so big that it's all I can see, and that usually gets my attention. My cat out there, giant photocopy of her, eight foot by eight foot."
The Reputation singer is also well known for her love of cat accessories, rocking items like a kitty purse with matching heels, a cat pendant from friend Lena Dunham, and a cat robe that she used to wear on tour. What can we say? The girl is committed.
So bottom line, even without credits upon credits of acting roles under her belt, Swift should fit right in with the cast. After all, she's been preparing for this moment her entire life.