7 Nonverbal Ways To Turn Someone On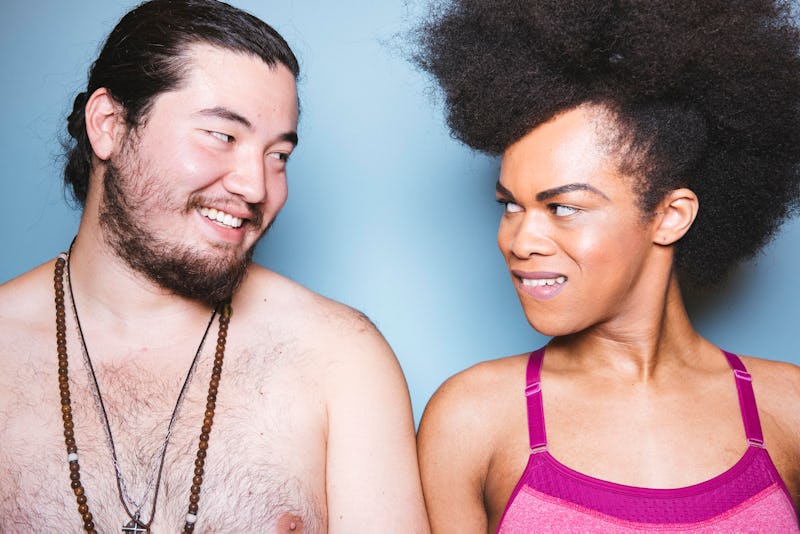 BDG Media, Inc.
When you're looking to get someone's blood flowing, there are a lot of different options. Personally, I prefer the straightforward ones: Telling a person you're interested, inviting them home with you, or straight up taking off your clothing. (If you're at that point, of course. Don't start stripping in a bar.) But not everyone likes being so verbal and forward — and not everyone responds well to verbal, forward advances. So I started thinking — what are some nonverbal ways you can turn someone on, both subtle and more forward?
While I have my own ideas about how to go about this (after a few drinks I've been known to tell the story of how I stripped down naked in literally five seconds the first time my now-boyfriend took me home), I turned to Demetrius Figueroa, founder of the dating blog and podcast Tao of Indifference, and Dr. Dawn Michael, certified clinical sexologist, sexuality counselor, and author of My Husband Won't Have Sex With Me, about the best non-verbal ways to turn someone on.
My Husband Won't Have Sex With Me, $17, Amazon
1. Flirty Glances
Figueroa suggests smiles from across the room and "playing with eye contact" as great ways to turn someone on. Give it a try with someone you think is cute in a bar, if you're single, or with your significant other if you're partnered. It's a classic for a reason.
2. Smoldering Eye Contact
When you're ready to take that eye contact up a notch, Figueroa suggests "sustaining eye contact for a more intense feeling." You know the look. Tell them exactly what you want with your eyes and add a little lip bite for extra oomph.
3. Lick Your Lips
Don't lick your lips like you're trying to get ice cream off of the tip of your nose, but a little tongue action can definitely be hot. Just remember: You're trying to be suggestive, not fully demonstrate exactly what you propose to do.
4. Sexting
While sexting often contains words, it is technically non-verbal, so I'm including it here. Get your romantic interest hot and bothered with sexy words, pics, or even emojis. Personally, sexting is one of my all-time favorites. Can't recommend it enough.
5. Subtle Touch
"Touching is a great way to flirt," Figueroa tells Bustle. "Touch them on their waist, their lower back, their neck, the back of their head, and they're bound to be turned on."
6. Sexual Touch
If they're a bit on the kinky side (and they're into it), give their hair a tug, grab or smack their ass," Figueroa says. "Hell, if you're both adventurous, there's nothing wrong with taking your touching from flirty to downright raunchy. Don't be afraid to let your hands roam."
7. Put On A Show
Dr. Michael has a suggestion specifically for women dating men, but I'd say the general idea applies to all genders. "Guys love a show, so touching your body in a seductive way is going to get his attention," she says. "You can touch your breasts and motion for him to join in or continue to peal your clothing off as you leave a trail and walk towards the bedroom."
So there you have it: seven ways to turn someone on, without ever touching them. Give one a try the next time trying to get someone as worked up as you are.