7 Ways To Dress Up As A Literal Pickle This Halloween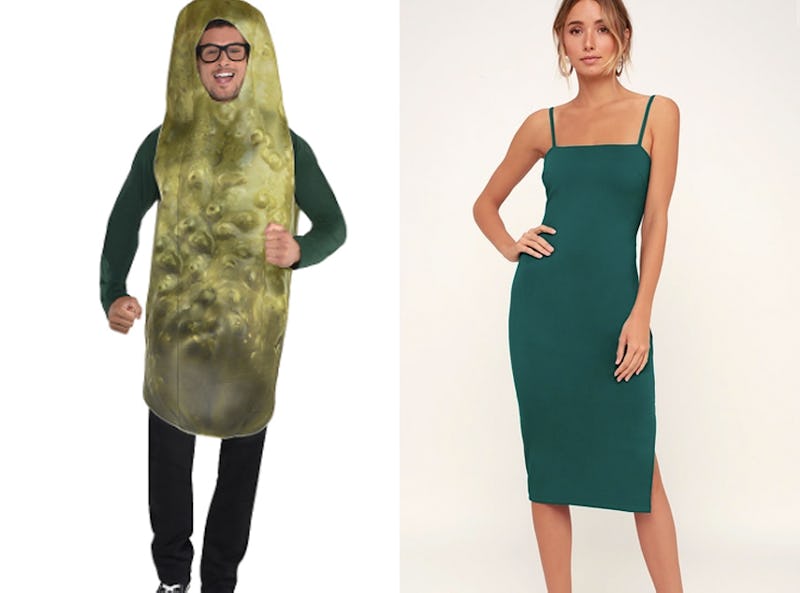 Party City; Lulus
While everyone else is dressing up as the things that scare them most this Halloween, why not try something different and dress up as something you love the most... like pickles? Yes, I am really suggesting that you dress up as a pickle for Halloween. They're delicious, and it's a really easy costume to put together. To prove it, I've put together a list of pickle costume ideas. The process for dressing up as the pickled cucumber is not necessarily intuitive, which is why I've taken some creative liberties and made a list that includes literal pickle costumes, and costumes that are inspired by pickles.
Perhaps the best reason why you should dress up as a pickle is that you will also have a great excuse to bring a jar of pickles around with you as an edible prop on Halloween. Also, you might want to keep in mind that being a pickle is a great asset to a group costume. If you have partner who wants to dress up as a sandwich or a squad that wants to dress up as a whole picnic lunch, you're the perfect complement as a pickle. So lean into your sour and salty side and make Halloween a little weird this year by dressing up as an old, but seriously tasty cucumber. Because why not?
Pull-Over Realistic Pickle
Pickle Rick
Pickle Rick Make Up Tutorial
If you want to be really extra about your love for Rick and Morty, you'll want to do this Pickle Rick face paint look. Just make sure you allot enough time to wash it off and start over again a few times, as this woman is a professional make up artist and definitely makes this process look easier than it is!
Athleisure Pickle
Dill Pickle Halloween Sweatshirt, $25, Etsy
Dark Green Joggers, $13, H&M
If you want to dress up as a pickle, but don't want to wear a costume that hides who you are, go for this atheisure look. You'll be the most comfortable person at the Halloween party, by far.
Pickle-Inspired Hair
Jerome Russell B Wild Color Spray, $6, Target
If you're going for a more abstract pickle inspiration, you might want to consider temporarily dying your hair green. If you've ever wanted an excuse to dye your hair a crazy color, here it is.
Meta Pickled Human Costume
Pickle Halloween Costume Shirt, $20, Tee Chamber
If your love of pickles is so real that you believe pickles are your spirit vegetables, you'll love this meta costume that's not a costume. Or is it?
Glam Pickle
Sexy Forest Green Dress, $57, Lulus
Velvet Beret, $10, Urban Outfitters
If you want to dress up like a pickle but you also want to make it fashion, this dress and beret combo will really give you the best of both worlds. In one light you're a green goddess and with a little context you're a gorgeous pickle.