7 Pieces of Advice For Better Sleep That Don't Work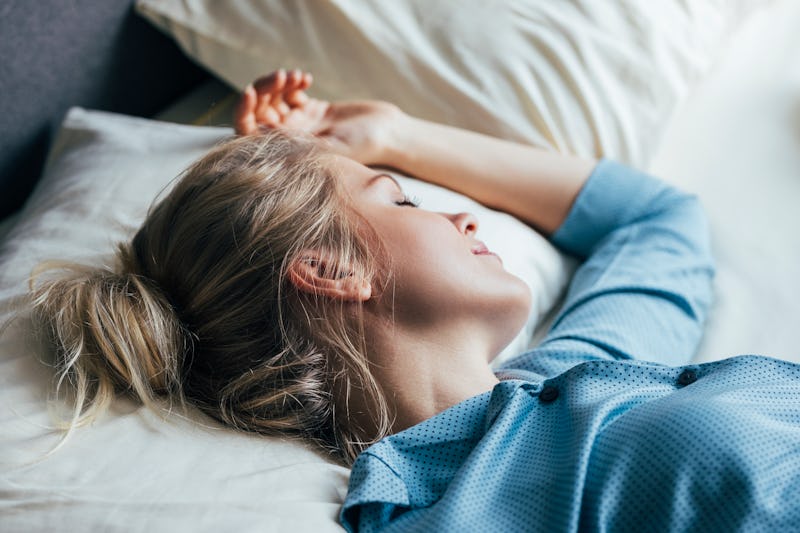 FreshSplash/E+/Getty Images
Few landscapes are as unsettling, menacing, and utterly treacherous as the barren stretch of consciousness between wakefulness and sleep. One minute, you're curling up in your comforter, snug as a lil' bug, and the next, you're trapped in a screening of your life's greatest failures. Remember that time you bent over and ripped your pants in front of your high school crush? NOW YOU DO. Everyone seems to have tips on how to escape this no man's land, but there's a lot of advice on getting a good night's sleep that don't actually work.
Besides being a Top Five way to spend your time (you're laying down, you don't have to wear pants, and sometimes you get to make out with Bradley Cooper in your dreams) sleep is essential to a person's physical and mental health. While we snooze, our bodies go to work rebuilding and healing themselves, repairing heart and blood vessels to maintain cardiovascular health, forming new pathways in the brain to facilitate memory and learning, and strengthening our immune systems to guard against disease. This means that skimping on sleep can have serious consequences for our health and well-being. According to the Center for Disease Control (CDC), not getting enough sleep is associated with higher risks of chronic conditions such as diabetes, high blood pressure, heart disease, stroke, and frequent mental distress.
The American Academy of Sleep Medicine and the Sleep Research Society recommend that adults aged 18-60 get at least seven hours of sleep, but a 2016 study by the CDC found that one in three Americans don't meet that goal. Their findings indicate that sleep is linked to a number of socio-economic issues, and that those who may already be vulnerable due to their race, health, education, or employment status, also struggle with not getting enough rest, and the subsequent consequences on their health. Healthy sleep duration was lowest among Native Hawaiians/Pacific Islanders, and non-Hispanic black (54 percent each) and highest among non-Hispanic Caucasians (67 percent). Seventy-two percent of those with college degrees got a full night's sleep, compared to 60 percent of the employed.
Clearly, sleep and all the questions surrounding (Who's getting it? How do we get enough of it?) are complex issues, and while we may not have all the answers yet, the least we can do is dispel some of the common myths about how to get a good night's rest. If nothing else, hopefully we won't be trapped alone with our thoughts for so long.