7 Questions About PMS, Answered By An Expert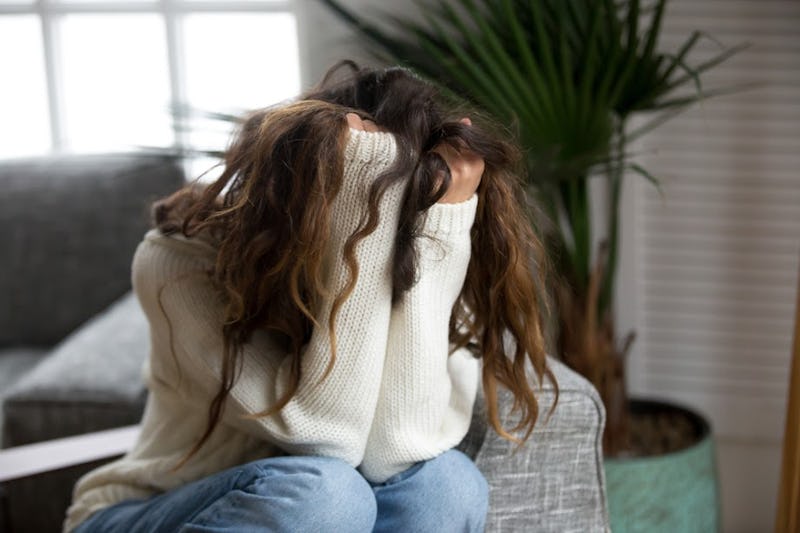 Fizkes/Shutterstock
When I was diagnosed with Premenstrual Dysphoric Disorder (PMDD), I had a million questions. Why do medications work for some people and not others? What's the cause of PMDD? Why do psychotropic medications help with physical symptoms? Then, because I'm a perpetually curious person, I did a deep dive researching them. And I quickly realized that the answers were more complicated than I expected.
But before we get into the questions, let's talk briefly about what PMDD is. Most people are familiar with premenstrual syndrome (PMS), but PMDD is less common and therefore fewer people know what it is. As a shorthand, I've been describing it as "PMS with suicidal ideation," but suicidal ideation is the extreme. More accurately, PMDD is all of the symptoms that can come with PMS — irritability, bloating, breast pain, anxiety, depression, fatigue, etc. — turned up to 11. To be diagnosed with PMDD, the symptoms have to interfere with your life (like you can't go to work or it's negatively affecting your relationships) for at least two months.
"PMDD is a cyclical hormone based mood disorder," PMDD expert Andrea Chisholm, MD, tells Bustle. "The symptoms present during the luteal phase of a woman's menstrual cycle. In the luteal phase or second half of every woman's normal menstrual cycle there is a significant increase in progesterone and a relative drop in estrogen. These hormones are neuroactive, meaning that they cross into the brain and they can influence brain chemistry. For some woman who are especially sensitive to these hormone changes, significant mood effects can occur."
For me, PMDD manifests as extreme physical symptoms and serious anxiety, paranoia, fatigue, and depression. I was convinced that my partner was cheating on me; that everyone in my coworking space hated me; that my family didn't want me around. I understood, for the first time, why people commit suicide. I also swelled up from my ankles to my face, going up two cup sizes and having to wear completely different pants for five to 10 days a month. I cried continuously. I couldn't get off my couch. I'd ask my boyfriend to lie down on top of me to suppress my central nervous system. And then, almost as soon as my period started, I was back to being a fully functioning human.
When I found a Harvard article about PMDD and how SSRIs (commonly called anti-depressants) are effective at treating it for many women, I felt hope for the first time in months. My family has a very serious history with mood disorders — including bipolar disorder, major depression, and suicide — but I hadn't considered the idea that what was going on with me was that. Because it's linked to my menstrual cycle, I assumed it was a hormone imbalance. But when I found out it could be related to serotonin, it suddenly made sense why none of the other things I'd tried had worked.
But I still had questions. And I'm sure that other people who are starting this process have a million questions, too. So with that in mind, here are seven questions about PMDD, answered.