7 Questions to Ask Your Partner If You're Bored In Your Relationship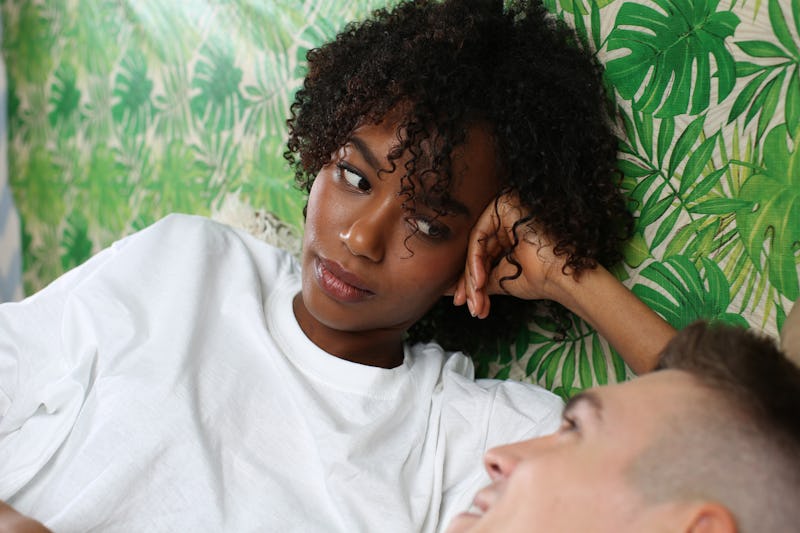 Ashley Batz/Bustle
It can't be all fun all the time: Most relationships fall into a snoozefest phase at some point. Maybe you find yourselves, somewhere in the fifth month, cuddled up in bed spooning a pint of ice cream in front of an episode of Arrested Development you've both seen too many times, and rather than thinking about how this is arguably the best Friday night plan in existence, a small panic starts kicking around in your skull space. Or maybe that couples' pottery class your partner loves so much has never been your idea of a good time, and you miss going to the corner bar and playing pool together. Regardless, every relationship — especially the long hauls — goes through lulls, but broaching the subject can be tricky business: It hurts to hear someone say they feel bored when they're with you, whatever the context. And yet, if your relationship has cruised into the doldrums, if the nights are now just an endless expanse of sexless sleep when you were supposed to Netflix and chill, you have to say something or things will certainly spiral. If you're feeling bored in your relationship, it's important to start asking questions.
Maybe you are perfectly happy with reasonable bedtimes and using a person you love as a pillow (and honestly why wouldn't you be?), but if you are reading this, perhaps you are frustrated. Maybe, you're just ever so slightly, resentful — if not of your partner, than of the shift in your dynamic. Maybe you are wondering if you and your Stella can ever get your groove back, and how. And when! And oh god, is it even worth it when everything gets a little bit boring eventually?
According to Dr. Kevin Gilliland, PsyD, a clinical psychologist and Executive Director of Innovation 360, these are crucial questions to answer for yourself before you broach them with a partner. If it's just six months in and you're already restless, stop and assess whether or not you actually want to be in that relationship at all. "There is nothing worse than being on a journey with somebody you don't like," Dr. Gilliland tells Bustle. But every long-term relationship has its ruts.
"If you're going through a season, have that conversation, because your partner may be feeling the same way," Dr. Gilliland says. But keep in mind, boredom has myriad different sources. Are you not getting the intellectual challenge you need? Does your partner not provide the emotional stimulation you want? Are your energy levels mismatched? Are your libidos? Are you not spending enough quality time together to feel connected? Has the sex grown stale, predictable?
"Boredom in a relationship can take several forms, and understanding the root will determine what kind of questions to ask," Irene Fehr, sex and intimacy coach, tells Bustle. Self-assess before you start peppering your partner with questions. Once you've figured out where you feel the relationship is sagging, then start talking to your partner. "The key is not to make them wrong but to ask open-ended questions to learn more about their experience," Fehr says.
Below are seven questions to help you get out of relationship boredom, according to experts.