'Bach' Fans Need To Stop With The Nick & Vanessa Negativity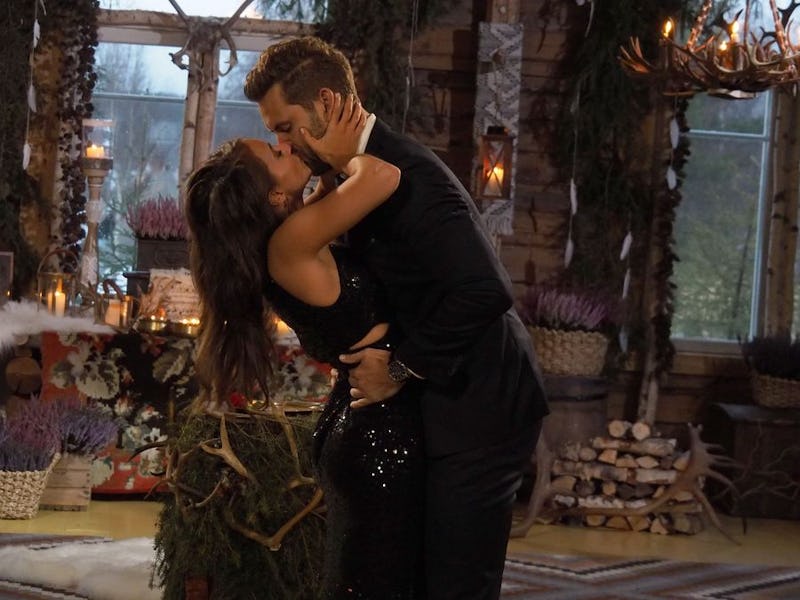 ABC/Terhi Tuovinen
Unfortunately for Nick Viall and Vanessa Grimaldi, they have not received the warmest reception from Bachelor Nation. Sure, all of the couples from the Bachelor franchise are subject to speculation and gossip, but it really seems like Nick and Vanessa are getting a lot less support than usual. I get it, their After the Final Rose appearance strayed from the norm. I'll admit that it was straight up awkward to watch, but there are plenty of reasons why we need to leave Nick and Vanessa alone.
I know that it can sometimes be more entertaining to talk about the negative, but enough is enough already. As far as we know, Nick and Vanessa are happily dating, so let's just leave it that way instead of reaching for stories that aren't there. And people need to stop with the hateful Instagram comments. If you don't like Nick and Vanessa, you don't have to follow them.
Not only that, but picking the one photo where Nick and Vanessa aren't beaming with smiles to use as "evidence" that they are an unhappy couple is ridiculous. Do you smile 24 hours a day? No. Why should they? Let's just be supportive. There are way more reasons to be on team Nanessa, Vick, or whatever combined couple name they're working with.
1. They Already Have Plenty Of Relationship Obstacles
Dating is already hard enough. These two met while Nick was dating 29 other women. Every televised moment of their courtship has been analyzed. Then, they had to date secretly while the show aired and they lived in two different countries. Do they really need hate on top of all that? No.
2. The Show Is Edited To Surprise Us
I get why some viewers could have been surprised when Nick handed out that final rose to Vanessa, but we do not get to see everything that went down between the two of them. Sure, we saw a lot of tense conversations about family values and which country they should live in, but there had to be more that didn't make the episodes. It could have been super obvious to everyone on the show that Nick was going to choose Vanessa, but it would be no fun as a viewer if we knew this the whole time, so of course there are going to be twists and turns to keep the fans guessing.
3. They Could Not Hang Out A Lot While The Show Aired
Not only did they have to keep their romance a secret, but it's not exactly easy to coordinate hangouts while one person is living in the U.S. and the other is in Canada. Not only that, but Vanessa had students to teach and Nick had a lot of promotional appearances and gym selfies to post. They were both busy and they couldn't hang out every day like other engaged couples. So if it seems a little awkward watching them on a TV appearance, then just cut them a break because it's a new relationship and they're still acclimating to being around each other.
4. Their Lives Are More Than What We See On Social Media
A picture may speak a thousand words, but people shouldn't put so much stock into Instagram posts or paparazzi photos. There could have been a million photos of Nick and Vanessa smiling from one date night, but if someone chooses to post the one photo where they aren't beaming with joy, people see it as a cry for help or a sign of trouble, and it's just absurd.
5. They Have Been Living In LA Together
Vanessa relocated to Los Angeles to support Nick during his stint on Dancing With the Stars. That was a very big move for her to make. She left her family, friends, and students behind in Canada to be there for Nick. Clearly she is making a serious effort to have a successful relationship.
6. They Have Pressure From Two Major Reality Shows
Not only did these two go through The Bachelor, but Dancing With the Stars seems like no walk in the park. The contestants rehearse all day, every day, not to mention that it has to be awkward watching your boyfriend try to have chemistry with another woman on the dance floor. Vanessa had to go from watching Nick kiss other ladies on The Bachelor to watching him wear open shirts and dance with another woman. Obviously, Vanessa has nothing to worry about with Nick and his partner, Peta Murgatroyd, but it still has to be tough when Nick's attention has been divided for the majority of their relationship.
7. They Deserve A Break
Enough is enough. I know that they are reality stars and we feel like we know them, but they are not TV characters. Nick and Vanessa are real people. I cannot imagine what it's like to be the subject of critical blogs, memes, and social media posts on a daily basis. I don't know how they do it and I just cannot help feeling bad for them. They're trying to make it work, let's just support them. Please?
Whether Nick and Vanessa are your favorite couple or not, just stop hating on them. There's no point putting that negative energy out there and it's just been way overdone at this point. It's always a better move to be positive and encouraging instead of constantly looking to justify criticism.