7 Sexual Assault Statistics Betsy DeVos Needs To See After That '60 Minutes' Interview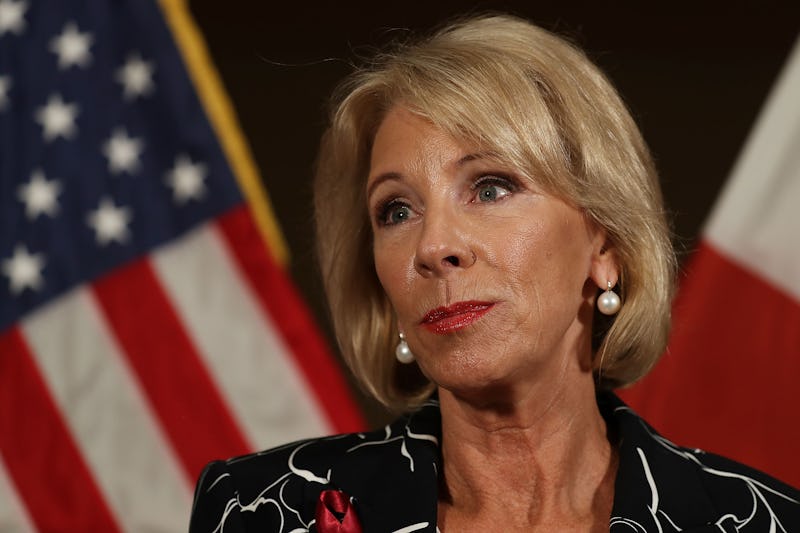 Joe Raedle/Getty Images News/Getty Images
Betsy DeVos made waves in September when she rolled back protections for sexual assault survivors on college campuses. The U.S. education secretary repeated her belief that students falsely accused of rape weren't treated fairly under the previous guidelines in a 60 Minutes interview that aired over the weekend, saying she doesn't know if the number of false accusations was as high as the number of sexual assaults on campus. To clear up the issue, DeVos could study these seven sexual assault statistics that show young women are way more likely to not report an assault at all than to make one up.
When CBS' Lesley Stahl asked DeVos if she was in fact suggesting the number of sexual assaults and false accusations are equal, the education secretary responded, "Well, one sexual assault is one too many, and one falsely accused individual is one too many." Stahl pushed further, and DeVos acknowledged that she didn't know if the statistics were the same. "But I'm committed to a process that's fair for everyone involved," she said.
DeVos' new guidance for how universities should handle sexual assault cases raised the standard of evidence required for a school to discipline the accused; eliminated the requirement that schools address sexual assault reports within 60 days; and allowed mediation sessions between the accuser and the accused. While many schools are sticking to the Obama-era practices, advocates for sexual assault survivors say the Trump administration is allowing universities to get by without protecting survivors' rights.
Since DeVos, by her own admission, made those changes without knowing whether there was any evidence that false reporting is as common as sexual assault, here are some statistics she might want to brush up on.