7 Signs Of Family-Related Anxiety In Your Body To Watch Out For Over The Holidays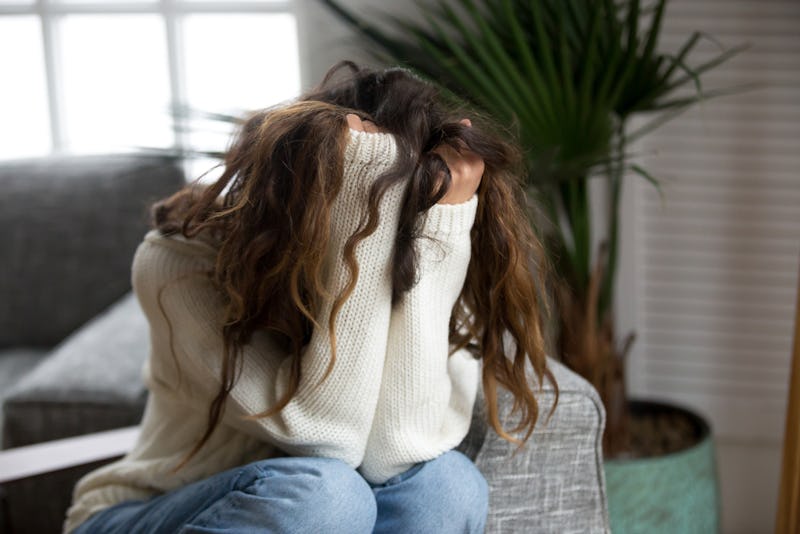 fizkes/shutterstock
Depending on people's family dynamics, the holidays can trigger signs of family-related anxiety in the body as a result of the conflicting emotions that frequently arise during this time. On the one hand, all the messaging around the holidays programs us to believe that it's a warm, loving, generous time when we're all supposed to be reminded of ~what really matters~. But for people with complicated family histories, going back home (or having everyone come over) is almost never the love-fest it's cracked up to be.
For plenty of people, spending time with family is not an environment in which they feel loved, supported, or affirmed — nor is it one in which they themselves are overcome with warm, fuzzy feelings of love and gratitude for these relationships. And even for people who don't have especially toxic families, run-of-the-mill anxiety around making sure everyone feels good and enjoys themselves during the holidays can hamper our own well-being.
"The holidays accelerate stress and anxiety for everyone," Dr. Fran Walfish, Beverly Hills family and relationship psychotherapist, tells Bustle. "Hosts want everything to go smoothly. Without intending to, they attempt to control the environment which sometimes includes family members. Frustration tolerance lowers, fuses blow, tempers flare, and feelings get hurt. Parents want their kids to behave showing perfect manners and kids want their parents off their backs."
Here are some signs that anxiety is creeping in on you to be mindful of during this time, according to experts.