7 Signs You Have An Intense Emotional Bond With A Toxic Person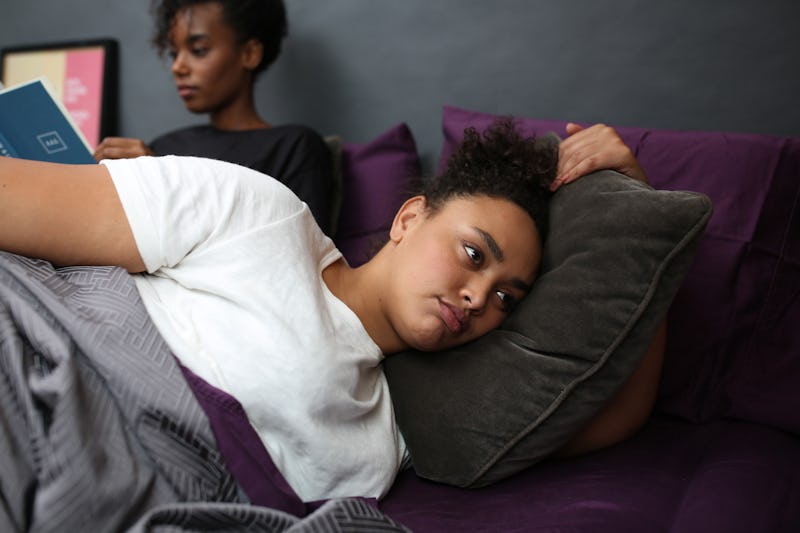 Ashley Batz/Bustle
When you're in an unhealthy relationship, the best and obvious thing for you to do is leave. But sometimes that's easier said than done. If you're in a trauma bond, therapists say it will make leaving that situation even harder.
"A trauma bond is an intense emotional bond between people that usually forms as a result of a toxic or abusive dynamic," Samantha Waldman, MHC, an NYC-based therapist who specializes in trauma and relationships, tells Bustle.
A past history of abuse or exposure to it can make a person more likely to form trauma bonds. For instance, people who experienced some form of neglect or abuse from childhood may normalize this behavior as an adult because it's what they "learned."
As Dr. Connie Omari, clinician and owner of Tech Talk Therapy, tells Bustle, trauma bonding includes the tendency for a person to connect with others based off the needs of their own traumatic experiences. "Because trauma involves some unmet emotional or psychological need, the relationship serves as a way to meet this need, even when it's not done so appropriately," she says. "It looks very dysfunctional and typically includes one or more forms of abuse."
These bonds aren't limited to romantic relationships. You can form a trauma bond with friends, family members, and even co-workers. When you're in a trauma bond, you'll find yourself continually drawn to someone even though they cause you significant pain.
It's easy to mistake unconditional love for something more toxic like trauma bond. So here are some signs you may be in a trauma bond with a toxic person, according to experts.