7 Signs Your Partner Doesn't Feel Totally Comfortable Around You — And What To Do About It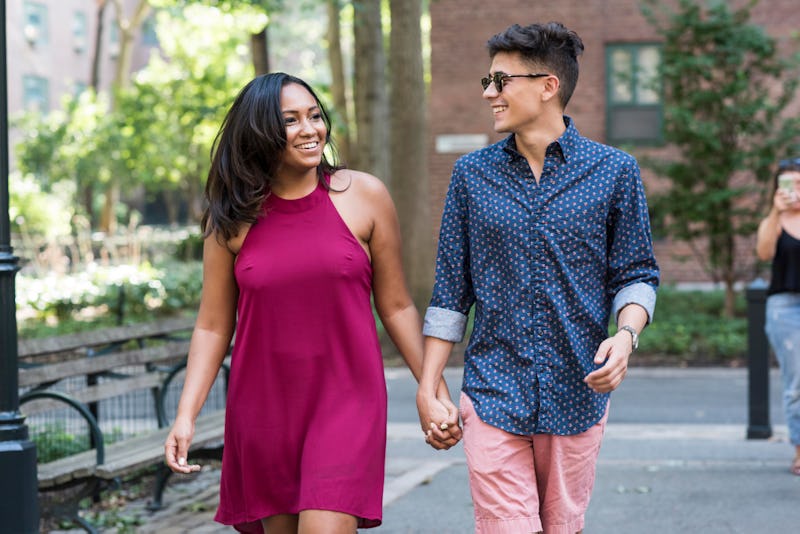 BDG Media, Inc.
When you're in a good relationship, you should be able to be your authentic self with your partner. After all, if you love someone, you're not going to judge them for how they are, and in return, you should be able to expect the same. But what do you if you suspect that your partner can't be genuine around you? According to experts, there are certain signs you can look out for. But most importantly, there are things you can do to help your partner overcome it.
"The fear of rejection is a powerful motivator to keep ourselves hidden," relationship therapist, Dr. Gary Brown, PhD, LMFT, FAPA, tells Bustle. "It's one of the biggest reasons why someone won't allow themselves to express their true, genuine self. They're afraid that if you see their inner world, you may not like what you see."
When someone's deep insecurities makes it hard for them to relax and be their true self around their partner, it may come off the wrong way. According to Dr. Brown, it's like someone telling their partner, "I don't trust you enough to truly love and accept me for who I am," even if that's not necessarily true.
"As a whole, living in distrust is a painful experience," he says. "The fear and distrust keeps us feeling alone, lonely, and isolated from the one we love. Having said that, there are some very specific things that you can do to help your partner out."
So here are signs that your partner can't be their true self around you, and what you can do about it, according to experts.