7 State Of The Union Speeches You Can Watch If You're Not Into Trump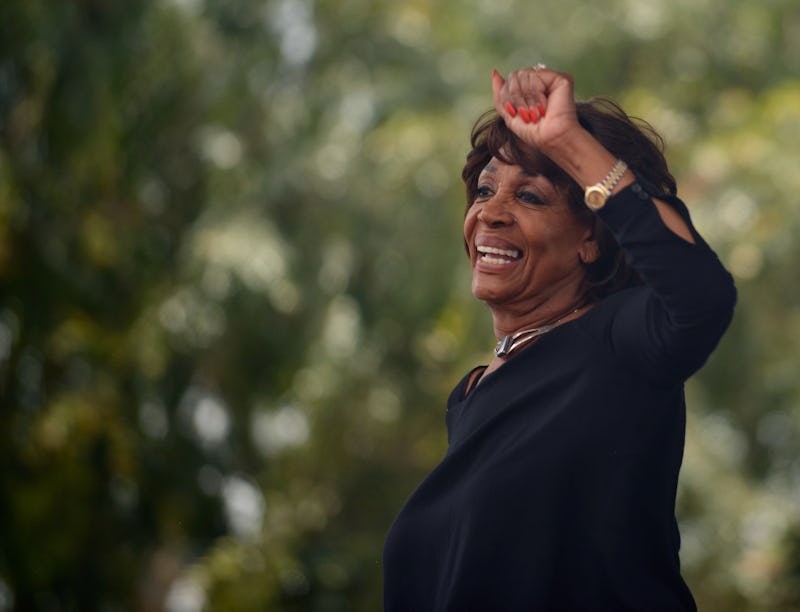 Chelsea Guglielmino/Getty Images Entertainment/Getty Images
Well, the big night is finally upon us. It's the first State of the Union address of President Donald Trump's career, and needless to say, a lot of people are going to be watching. That said, however, maybe you're not so keen on tuning in, and would rather see someone else in the world of politics give a speech instead. If so, here are seven SOTU speeches you can watch if Trump's not exactly your thing this year.
Whenever the State of the Union rolls around, there are plenty of elected officials, party leaders, or pundits who're eager to weigh in and share their thoughts with the nation. Sometimes, this takes the form of the opposition party's official response, and this year that'll be Massachusetts representative Joe Kennedy doing the English-language response, and Virginia Del. Elizabeth Guzman giving the Spanish-language response.
But sometimes individual politicians eager to raise their profiles or get their unique messages out also step into the fray, delivering responses of their own (often via the internet) to anyone who will listen. And this year is absolutely no exception. Here are seven non-Trump SOTU speeches you can watch on Tuesday night, ones that you might find a little more interesting.
1. The State Of OUR Union
Beginning an hour advance of the actual State of the Union address, there's a women's event taking place, titled The State of OUR Union. It will reportedly include outgoing Planned Parenthood president Cecile Richards, #MeToo founder Tarana Burke, and Democratic Reps. Pramila Jayapal and Barbara Lee. You can watch it streaming here, starting at 8;00 p.m. ET.
2. Maxine Waters' State Of The Union Response
Democratic Rep. Maxine Waters has emerged over the past year as one of the most strident, vocal, and pointed of the president's critics, as well as one of the members who's most forcefully called for his impeachment. Waters will be offering her own response to Trump's address the night after, so sadly, you can't watch it tonight. But if this piques your interest, she'll be on Angela Rye's State of the Union at 10:00 p.m. ET on Wednesday, Jan 31.
3. Joe Kennedy's Official Democratic Response
How about the official, Democratic Party-backed State of the Union response? If you're wanting the English-language version, you'll be watching Rep. Kennedy address the nation immediately following Trump's speech, in what will undoubtedly be his largest-ever national audience.
4. Elizabeth Guzman's Official Democratic Response
If you're a Spanish speaker and want to see Guzman's address instead, you can watch it on CNN Español, Telemundo, or Univision following the president's speech. Guzman, who won her first term as a state lawmaker last year, became one of the first two Latinas ever elected to a Virginia statewide office.
5. The People's State Of The Union
This event already happened, but if you missed it want something political to watch tonight, you could easily substitute it in when the president's address comes on. The People's State of the Union took place on Monday, including appearances by liberal and politically motivated celebrities like Mark Ruffalo, Rosie Perez, and Cynthia Nixon.
6. #StateOfTheDream
This is a slightly different kind of thing, and it'll be playing out on social media starting at 9:00 p.m. ET, right alongside Trump's speech. At that time, people participating in #StateOfTheDream will be posting videos and comments of Twitter detailing what they think make America unique and worthwhile. A Google document circulating in advance of the event encouraged people to make 60-second video clips describing their dreams for America, and to post them on Twitter, with the hashtag #StateOfTheDream, at 9:00 p.m. on the dot.
If you want to follow along, all you have to do is search for the hashtag on Twitter.
7. Bernie Sanders' State Of The Union Response
Vermont senator Bernie Sanders, still one of the most popular politicians in the country according to the polls, will also be delivering his own response to Trump's remarks on Tuesday night. It'll be streaming on Facebook Live starting at 10:45 p.m. ET.
So if you're craving politics during this year's State of the Union but want to opt for something other than the president's address, there are plenty of alternatives for you to choose from. So by all means, give one of these a look ― after all, Trump is still going to be the president tomorrow, so it's not like you'll be missing much.