7 Surprising Drinks That Can Improve Your Gut Health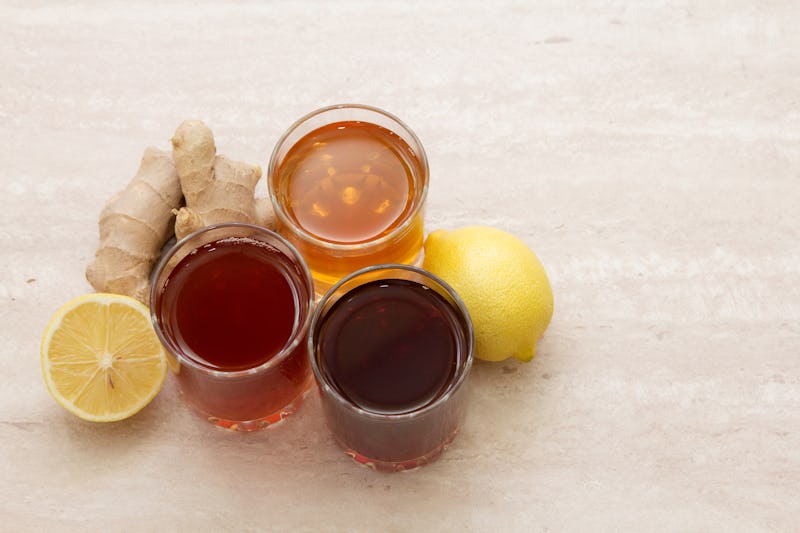 StockProduction/Shutterstock
Gut health can impact so many aspects of your life. If you have poor gut health, you can be more at risk of catching colds, feeling anxious, or suffering from inflammation. Luckily, there are drinks that can help improve your gut health, if you are looking for a quick, go-to solution.
"By consuming gut-healthy foods and drinks, you can reduce inflammation in your gut, say goodbye to digestive symptoms like gas and bloating, and boost your immunity," nutritionist Lisa Richards, tells Bustle.
She divides gut-friendly drinks into two categories: probiotic drinks and "gut healing" drinks. Probiotic drinks contain the same bacteria that's naturally found in your stomach, and Richards says can actually "replenish the beneficial bacteria that live in your gut." She adds that these drinks are "pre-digested" in the fermentation process, meaning that they're rich in nutrients and easy for your stomach to digest.
The second category is "gut healing" drinks. These beverages often contain amino acids or other compounds that can actually heal gut problems. Richards says these types of drinks are particularly useful for alleviating the discomfort that comes with conditions like IBS or leaky gut.
We all want good stomach health, so here are some of the best drinks to keep your gut healthy and happy, according to experts.