7 Things An Earth Sign Will Do When They're Crushing On You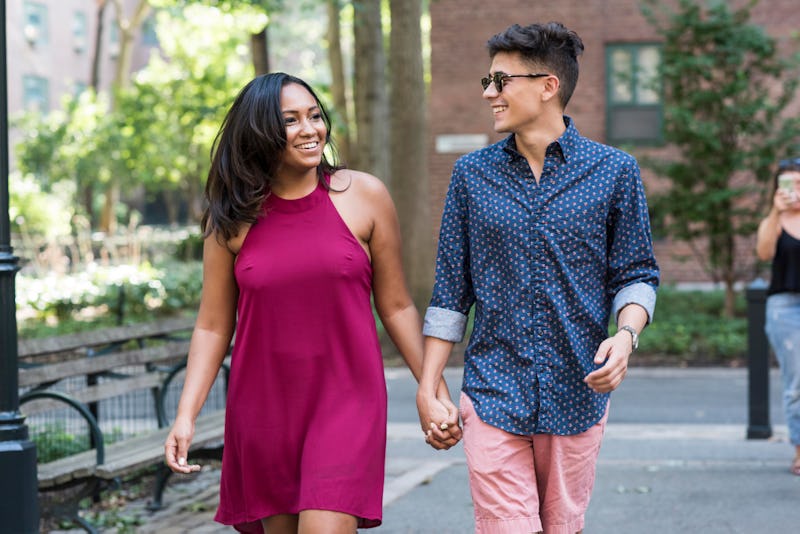 BDG Media, Inc.
If you're looking for a partner who's stable, grounded, and in it for the long haul, an Earth sign is exactly the type of person you need. However, don't expect them to offer you a commitment right away. When it comes to love, Taurus, Virgo, and Capricorns aren't exactly showy with their affections. But if you're crushing on an Earth sign and you want to know if they like you back, astrologers say there are some things you can look out for.
"Earth signs value simplicity," astrologer Olga Verk, tells Bustle. "Ideally, they would like to cook a home-cooked meal for you, or just stay in to Netflix and chill. They're always eager to jump in and help their crush with simple tasks and chores just to show they care."
Because Earth signs are known for their more practical approach to love, their idea of romance is a little different than other zodiac elements. For instance, Fire signs (Aries, Leo, and Sagittarius) are more likely to pull out all the stops. "They'll do grand gestures like spelling your name with rose petals under your bedroom window," Verk says.
Air signs (Libra, Aquarius, and Gemini) will find ways to intellectually stimulate you and talk to you as much as possible. Water signs (Cancer, Scorpio, and Pisces) will confess their feelings through something deep and meaningful like a poem or a song.
If you want to know if an Earth sign likes you, here are some things they'll do when they have a crush, according to astrologers.