7 Things To Tell Yourself When You're Waiting For Someone To Text You Back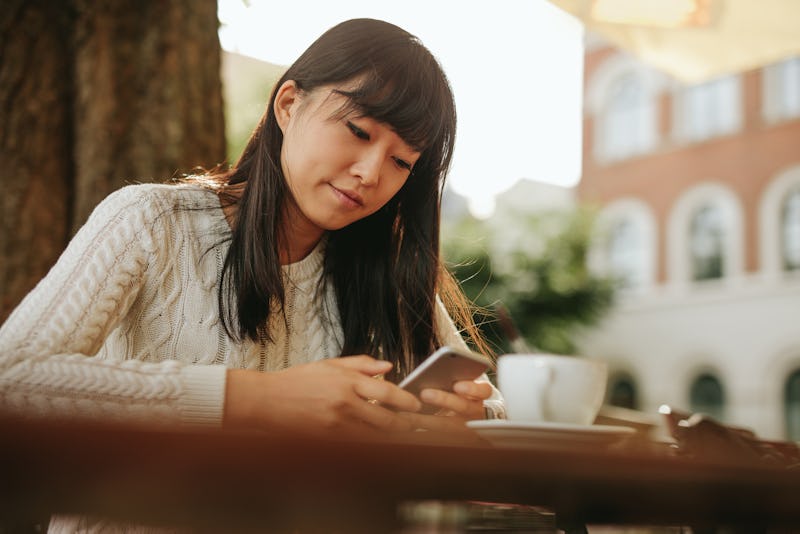 Jacob Lund/Fotolia
Is there anything worse than waiting for someone to text you back? The thoughts that run through you're head when you're in those initial stages of dating someone — the stages when you don't really know them yet and you definitely don't know their phone habits — can be really stressful. Maybe he hates me. Maybe she thinks I'm too thirsty. Maybe I smelled weird on our date. Maybe I shouldn't have had slept with them so quickly. Maybe they've met someone else. Maybe, maybe, maybemaybemaybe… There's probably no other time when we're more likely to, a) be unkind to ourselves and, b) make up all kinds of stories in our heads.
According to one 2016 study from the research firm Dscout, Americans touch our phones an average 2,617 times per day. I'd be willing to bet my iPhone that number skyrockets even higher when we're waiting for someone we like to text us back.
This is a uniquely now problem in the history of humanity. Back in the day, you'd call someone and leave a message on their answering machine (or with their parents or siblings or roommate) and hope that they got back to you quickly. The waiting weighed on your mind and was stressful, but that waiting was nothing compared to the excruciating wait when you're expecting a text.
While you totally could hang around the house waiting for the phone to ring back in the day, most people got bored and did something else in the meantime — and, remember, phones back then couldn't be taken along in your pocket. Plus, cell phones add the agony of checking constantly to see if someone's responded.
And waiting around for texts can even affect relationships. "Texting can harm relationships because of one partner's expectation of the response rate," Anita A. Chlipala, dating and relationship expert and licensed marriage and family therapist, tells Bustle. "My clients have reported hurt feelings because their partners did not respond to a text, but they could see their social media posts. So they wonder, 'If you had time to post on social media, why are you not responding to my text? He obviously doesn't care.' This kind of expectation inevitably leads to hurt. Both partners have to have realistic expectations because many variables can lead to this kind of situation (such as the partner was waiting to call instead of text a response!)"
So what should you do instead? Here are seven things you can tell yourself when you're waiting for someone to text you back.