50 Genius Sexting Ideas To Use Right Now
Shy and uncreative texters, rejoice.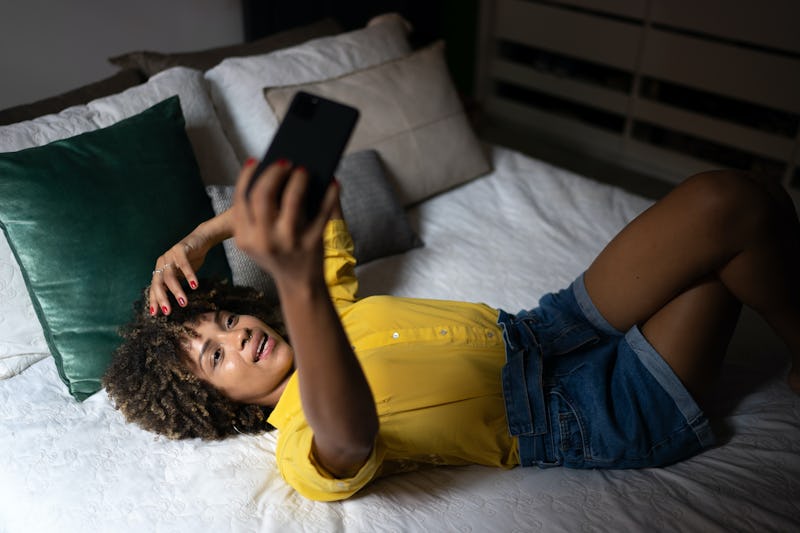 FG Trade/E+/Getty Images
Sometimes, even when the mood is right, it can be tough to figure out what to say when you're sexting. Nerves can take over, as can the fear of sounding too cheesy. But that doesn't mean you can't turn yourself into a sexting genius with a little practice — or, you know, by pulling from an online list of sample sexting ideas.
But before you figure out what to say, it may be helpful to know that sexting is incredibly common. And according to a 2019 study from the Sexuality, Sexual Health & Sexual Behavior Lab in the Texas Tech University Department of Psychological Sciences, sexting is also a really great way to communicate sexual desires to your partner — aka, all the stuff you really want to try in bed but may be too nervous to talk about face-to-face.
As doctoral student Kassidy Cox noted in the study, "People used to write love poems and steamy letters, then when photography became more common place, couples used to take boudoir photos for each other." And so it stands to reason that sexting is the next evolution of how couples communicate, flirt, and engage in foreplay.
The study also pointed out that sexting isn't always about sex, but may be a way for couples to feel close and connected, among other things. You might sext as a way to gain affirmation or to relieve anxiety, which can come in handy when you're in a long-distance relationship and aren't able to see each other other day. Whatever the reason for sexting may be, here are 50 examples of sexy messages you can send to your partner to get a hot convo going.
Sext Type #1: Sexy Previews
I want you to lie back and let me take care of you tonight.
I'm wearing something you might like right now.
I'm going to let you do anything you want to me.
I've got a surprise waiting for you.
I'm going to make you beg for it.
I'm going to make you come so hard.
My clothes are coming off the second I get home.
I want you.
Sext Type #2: Requests
Tell me what you think about when you masturbate.
I want you to kiss/touch my [pick a body part].
I need you inside of me right now.
I want to watch you masturbate.
I want you to tease me until I can't take it any longer.
Put it in my mouth.
Let me take control tonight.
Get over here right now.
Sext Type #3: Things You Like To Fantasize About
I'm picturing you and me with another person.
I love thinking about you coming.
It's so hot to imagine you tying me up.
I've been so bad.
That scene from [movie/TV show] was so hot.
I like thinking about you touching yourself.
I read an article about anal today and it got me thinking...
Sext Type #4: Teasing
I'm touching myself right now and thinking about you.
It's too bad you aren't here right now...
I like distracting you.
I'm so wet right now.
I had such a sexy dream about you last night.
I thought of something I want to do to you tonight...
I just got out of the shower.
I'm too busy tonight. You can't have me until tomorrow ;)
Sext Type #5: Past Memories
I miss feeling you inside of me.
Remember that time we did [fill in the blank]?
I can't get last night out of my mind.
I want you to do exactly what you did last time we [fill in the blank].
I can't imagine ever coming as hard as I did when you [fill in the blank].
Sext Type #6: Compliments
You always feel so good inside of me.
I love staring at your [fill in the blank].
You make me so wet.
I love the way you make me feel.
I've never felt as attracted to anyone else.
I get so turned on whenever I'm near you.
The anticipation is killing me.
I can't get enough of you.
Sext Type #7: When You Want To Respond But Can't Think Of Anything To Say (Or Are Too Busy)
That turns me on so much.
What else will you do to me?
What are you wearing right now?
Tell me more.
I love when you talk like that.
Your messages have me so distracted.
More Sexting Tips
These sample sexts should cover just about any scenario, and will help you ease into the world of sexting. But if you still feel unsure, feel free to adjust the lingo to stay inside your comfort zone language-wise. For example, you might prefer to say "dick" instead of "cock," according to sex therapist Vanessa Marin.
Marin also says one of the easiest ways to start dirty talking is by incorporating inside jokes or personal memories that the two of you share. That way, you'll never be at a loss for things to say because you're pulling from something that already happened.
And finally, you can always adjust the level of explicitness, at least to start. Dirty talk doesn't have to be X-rated to be sexy, and sometimes playing coy is actually more fun. For example, you could say, "Wait until you see what I've got on underneath my work clothes," and leave it at that. Just like that, you and your partner will officially be sexting.
Studies referenced:
Drouin, M., Coupe, M., & Temple, J. R. (2017). Is sexting good for your relationship? It depends …. Computers in Human Behavior, 75, 749–756. doi: 10.1016/j.chb.2017.06.018
Young, G. (n.d.). Texas Tech Today. Retrieved April 06, 2021, from https://today.ttu.edu/posts/2019/11/Stories/sexting-isnt-just-about-sex
Experts:
Vanessa Marin, sex therapist
This article was originally published on