All The Times Tom Holland Literally Wouldn't Stop Being Spider-Man IRL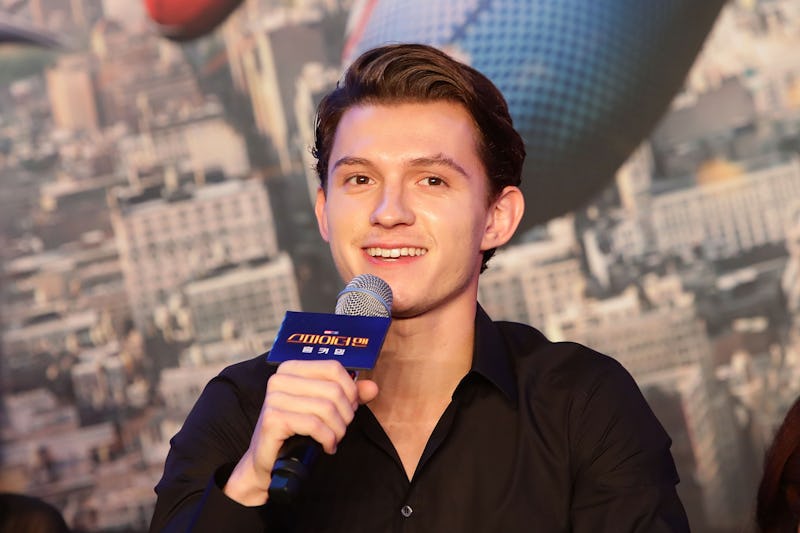 Chung Sung-Jun/Getty Images Entertainment/Getty Images
As most fans of the famously kindhearted Spider-Man star could probably tell you, Tom Holland's penchant for the heroic far exceeds the good deeds his character performs onscreen. In fact, ever since Holland emerged as the newest Spider-Man titleholder, the actor seems to have embodied the essence of his character to the fullest extent.
With the release of Avengers: Infinity War, which broke major box-office records when it opened last month, the buzz over Holland's real-life Spidey sense seems to have kicked up quite a bit. (For those who've yet to watch the latest Marvel superhero installation, Holland's Spider-Man provides the Avengers movie with perhaps its most tear-jerking moment.) And the fact that he has made some heroic moves in real life doesn't come as much of a surprise, considering Holland's long-established habit of wearing the Spider-Man suit in real life and generally behaving in line with the superhero character's do-gooder ways. More often than not, Holland manages to do both at the same time.
Those fans who've perused Holland's Instagram account as of late probably already know this. In fact, about six weeks ago, the actor posted a sweet photo series to Instagram, the first image of which shows Holland fist bumping a kid while donning his Spider-Man costume.
But, for all those Spider-Man enthusiasts who don't want to wait until 2019 (when Avengers 4 and the Spider-Man: Homecoming sequel are planned for release) to see Holland carrying out the superhero's legacy, here's a look at seven times Tom Holland actually was Spider-Man, to tide you over.