7 Types Of Skin Conditions Women Are More Likely To Have, According To Experts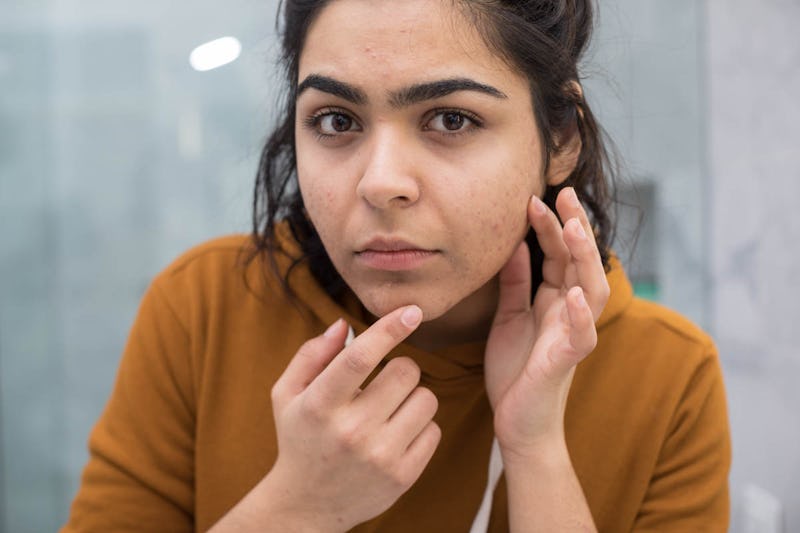 Ashley Batz/Bustle
Skin conditions can affect anyone. But there are certain skin conditions women are more likely to have. According to dermatologists, hormones, pregnancy, and lifestyle habits are usually the cause of these different types of skin conditions.
Bustle acknowledges that people who identify as women may not have uteruses, and those with uteruses may not identify as women. For the sake of uniformity throughout this article, "women" will be used to refer to those with uteruses.
"Women have more estrogen and progesterone, and men have more testosterone," Dr. Sandra Lee, M.D. (aka Dr. Pimple Popper), dermatologist and founder of SLMD Skincare, tells Bustle. "Melasma, adult acne, and spider veins are all influenced by [these] hormones."
Spider veins are also seen more commonly in women, and usually start during pregnancy. According to Lee, the growing uterus puts pressure on the vascular system and makes it harder for venous blood from your legs to flow back to your heart. "Things get backed up (sort of like a dam) and this is when you can see more prominent spider veins and varicose veins," she says. "It's why we recommend compression hose during pregnancy."
While different skin conditions can affect people regardless of gender identity, there are a few specific ones that tend to affect women more. So here are some unexpected skin conditions women are more likely to have, according to dermatologists.