7 Reasons Your Adult Acne Isn't Going Away — And How To Fix It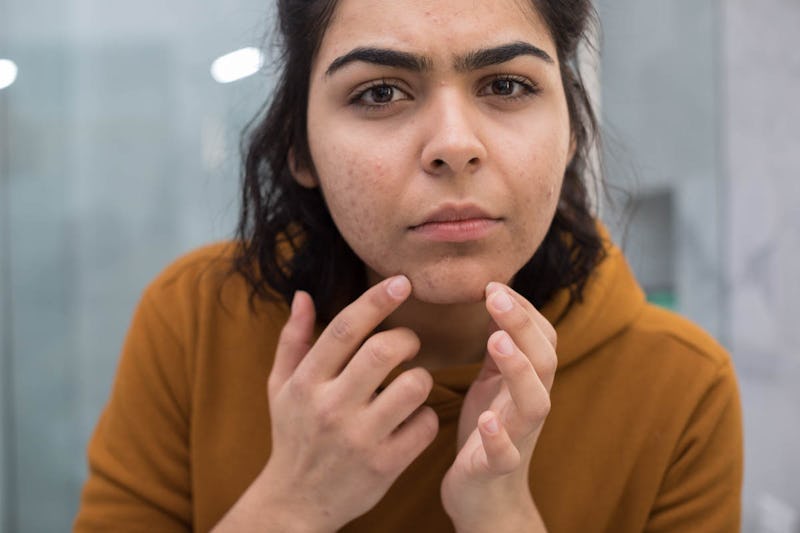 Ashley Batz/Bustle
As a teenager, I'd imagine my 25-year-old self. I'd drive a new BMW, bring in a six-figure salary, and have flawless skin. As I grew older, the desire for a fancy car and copious amounts of money subsided, but I'm still looking forward to the day when acne is a distant memory. Pop culture often portrays acne as an unfortunate but temporary aspect of teenage years; for many people, that's not the case. Adult acne is a medical condition that impacts more people than you might think. Between 40 and 55 percent of adults have been diagnosed with low grade, persistent acne and oily skin. There are a number of causes of adult acne, and many ways to fix it.
Dr. Philippa Lowe at the Cranley Clinic tells Bustle that while adult acne is common, it's also very treatable. "We frequently see adult acne in our clinic — mainly in women. This is due to hormonal changes that can be caused by pregnancies, some OCP (oral contraceptive pills), stress — juggling work and families — and general changes in hormone levels that occur naturally with age," she says. "We treat adult acne in much the same way that we treat teenage acne. If mild or moderate we recommend you use over the counter treatments. If the acne is persistent, moderate or severe then we would advise that you see your GP (general practitioner) or a dermatologist to discuss prescription acne medication. These medications are often used with over the counter products."
Often, the underlying cause for your adult acne will dictate the best form of treatment. Ahead, you'll find seven common adult acne causes and suggestions for how to get rid of it for good.