7 Cult-Fave Vegan Products You Can Get At Trader Joe's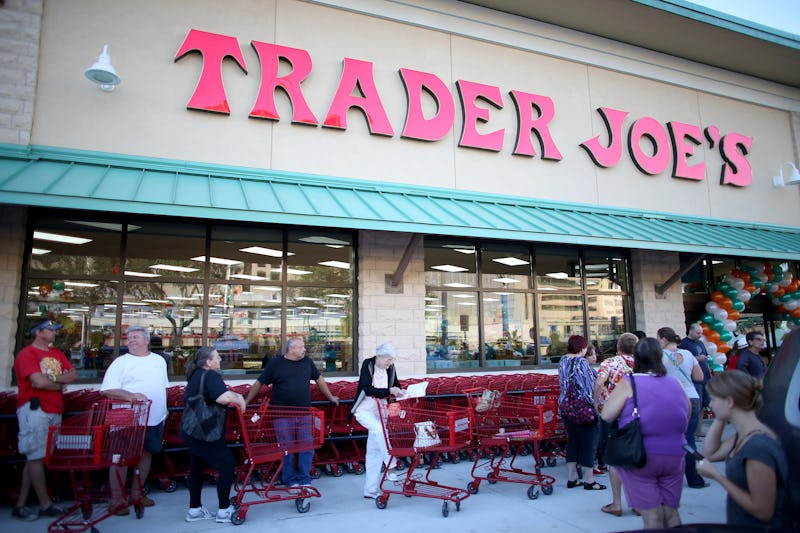 Joe Raedle/Getty Images News/Getty Images
Whether you're planning on going full-on vegetarian or vegan, or you're just looking to mix more plant-based foods into your diet, it can sometimes be tough to find replacements for dietary staples, especially if you're looking at giving up some of your favorite foods. As someone repeatedly lured back from vegetarianism by Taco Bell, I totally get it — which is why, when I know I'm going to take my diet more plant-based, I keep a handy list of available alternatives. And thankfully, Trader Joe's makes tons of cult vegan staples to help keep those cravings at bay.
With more and more plant-based alternatives appearing on the market (like the ridiculously delicious Impossible Burger), folks keen on trying plant-based foods have a veritable plethora of options, from true game-changers like the Impossible Burger to smaller but equally noticeable changes, like flake sea salt, as Melissa Breyer writing for TreeHugger recommends.
Adding more plant-based foods to your diet or swapping over wholesale can often (understandably) lead to thinking about big changes rather than small changes, but little things like incorporating flake sea salt can add some serious depth of flavor to dishes that may need some seasoning help to compete for an omnivore's attention.
Here are seven excellent vegan classics from Trader Joe's you can add to your upcoming meal plans.