7 Ways Sexual Assault Is Dismissed In Our Society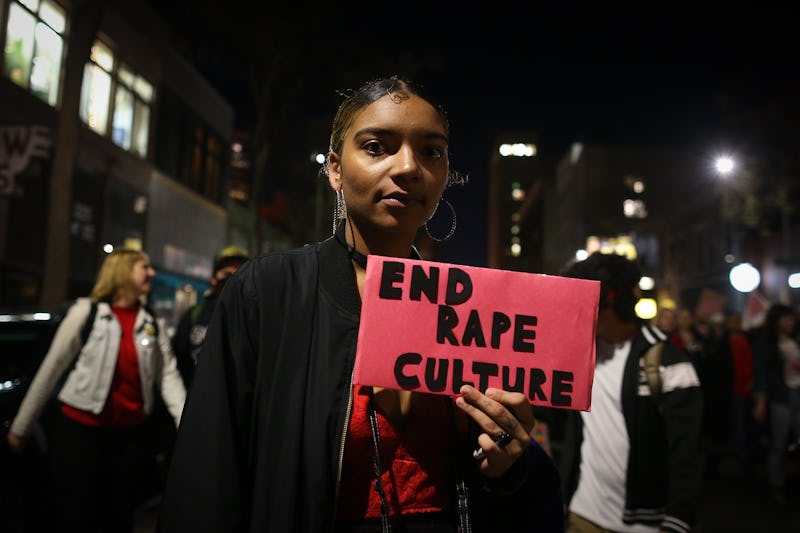 Elijah Nouvelage/Getty Images News/Getty Images
Lately there's been quite a bit of outrage over the American Health Care Act (AHCA), which passed the House on Thursday and is now on its way to the Senate. The proposed plan is particularly troubling because it would allow insurance companies to discriminate against sexual assault survivors, effectively silencing millions of women from seeking treatment or reporting abuse. But even if the bill doesn't pass, there are still many troubling ways that sexual assault is dismissed every day in America. In order for us to ensure that survivors are believed, supported, and empowered, we have to start challenging these narratives.
According to the Rape, Abuse, and Incest National Network (RAINN), sexual assault occurs in America every 98 seconds, and every one in six women will be the victim of an attempted sexual assault in her lifetime. Tragically, RAINN also reports that perpetrators of sexual assault are far less likely to be punished by the justice system than perpetrators of other crimes. In fact, out of every 1,000 rapes, 994 perpetrators will walk free. This, combined with a culture of victim-blaming and inadequate protections for survivors, leads to as much as 80 percent of sexual assaults to go unreported.
There are various reasons that survivors don't report assault, from the fact that attackers are often not held accountable to the misconception that survivors were somehow "asking for it" because of their attire or alcohol consumption. In order to change these issues, we have to start talking about them. Here are some everyday ways that sexual assault is currently dismissed in our society.