7 Ways The Pay Gap Is Actually Worse Than You Think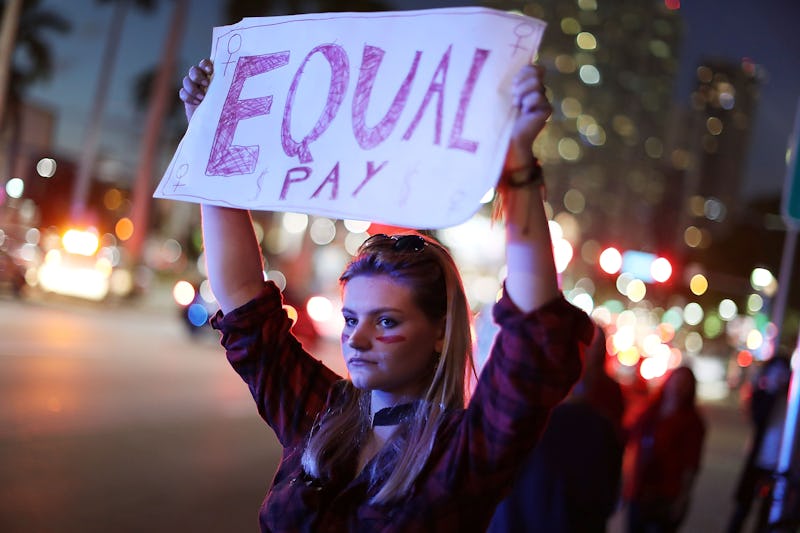 Joe Raedle/Getty Images News/Getty Images
It's easy to get complacent in the struggle for equality, but some stark reminders of how deep sexism runs in our country are impossible to ignore. Equal Pay Day falls on April 10 this year and like every year, it's an important reminder of how much women suffer from the gender pay gap. Equal Pay Day represents how long a woman has to work into the following year to be paid the same as a man — and in this case, it's over three months into 2018. Usually the gender pay gap is quoted as women earning 77 cents on the dollar, which is a statistic that the Labor Department found in 2013. The current statistic for 2018, according to the Equal Pay Day website is actually 80 cents on the dollar, which is still a 20 percent penalty. But in a lot of ways, the pay gap is probably worse than you think.
The reasons the gender pay gap is so extreme are multi-faceted and complex, but it's clear that as a society we have some biases that need challenging. "Women should not and cannot be held solely accountable for closing the wage gap," Kelli Dragovich, Hired's SVP of People, tells Bustle. "The issue is largely systemic. For example, when women start with a lower salary at their first job, each promotion, raise or new job is often still less than their male counterparts who started off with higher compensation. Another problem is often employer's unconscious biases that are hard to detect and even harder to regulate."
Not only do some women feel those biases harder than others, this gap spreads to areas other than just wages. Here are the stats you need to know about the pay gap.