We Could Have Done Without These Pieces Of Celebrity "Advice"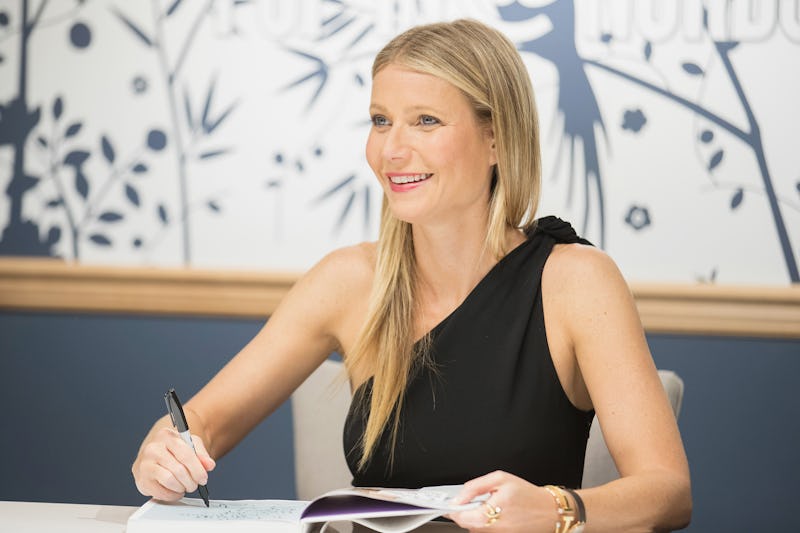 Mat Hayward/Getty Images Entertainment/Getty Images
Celebrities are weird. They have to be — no normal person is that fabulous. And with the oddity of fame comes the weirdest celebrity advice. Celebs are constantly giving their opinions on love, life, happiness, diet, exercise, and everything in between, and while most tend to stick to generic staples along the lines of "eat right and exercise regularly," others enjoy taking their advice a step further, as evidenced by these seven weirdest pieces of advice celebs have ever given.
Celebrities are rich and famous, so it's not really that hard to see why they might seem out of touch with the common man, especially when giving advice. You say to get your body, you have to hire a personal trainer, [insert celeb name here]? That's all well and good, but how many of us lowly civilians can afford such a luxury? Perhaps in love, we should play hard to get, but that's easy to say for a pop princess. Granted, out of touch advice isn't necessarily weird, and sometimes it's the simplest (and most affordable) advice that ends up being the craziest — like sunning your vagina or forgoing sunscreen. No matter the cost, these seven weird pieces of celebrity advice should be taken with a grain of salt, especially if you're just a regular, non-celebrity.
1. Sun Your Vagina — Shailene Woodley
Actress Shailene Woodley has an interesting way of helping prevent yeast infections and "other genital issues," as she said in an interview with Into the Gloss. "If you're feeling depleted, go in the sun for an hour and see how much energy you get. Or, if you live in a place that has heavy winters, when the sun finally comes out, spread your legs and get some sunshine."
2. Lose Weight Before You Date — Patti Stanger
Millionaire Matchmaker Patti Stanger offered some pretty questionable dating advice in an interview with HuffPost, saying, "I know that I can't date at a size 8. I have to date at size 2. It's just a fact of nature." The matchmaker to the rich and famous added, "In order to get the one you want, you've gotta become the one he wants you to become [physically]." OK, Stanger, you do you.
3. Waltz With A Newborn — Mel Gibson
Actor Stephen Tobolowsky revealed that his Bird on a Wire co-star Mel Gibson told him that the first thing he did with his newborn son was take him for a waltz around the living room. Tobolowsky, who wrote about this odd exchange in Esquire, was expecting his first child during filming and spoke to Gibson about his nerves. "Good luck, pal. Try the waltz," Gibson told Tobolowsky as he was being whisked off to join his wife at the hospital. It's not so much that this advice is strange — a waltz is actually a perfect way to calm a fussy baby — but the fact that it came from Gibson of all people is just, well, weird.
4. Lie To Your Significant Other — Jack Nicholson
Jack Nicholson famously said "There's only two people in your life you should lie to... the police, and your girlfriend," via GQ. Please, do not do either of these things. They will both come back to haunt you.
5. Make Breastfeeding Mandatory — Gisele Bundchen
Supermodel mom Gisele Bundchen was forced to walk back her comments on breastfeeding after she told Harper's Bazaar UK, via Us Weekly, "I think there should be a worldwide law, in my opinion, that mothers should breastfeed their babies for six months." Bundchen also called formula "chemical food" and criticized women who don't breastfeed. While breastfeeding does have many positive attributes, not every mother or woman is able to breastfeed her child, and dismissing those that can't is about the wackiest mothering advice she could give.
6. Don't Get A Flu Shot — Bill Maher
Bill Maher dipped into anti-vaxxer territory in 2009, when he called those who get flu shots "idiots" on Twitter. He has since had anti-vaxxers on his show, Real Time with Bill Maher. Everybody's health is, for the most part, their own business. But, it truly does not seem wise for a talk show host to be giving out medical advice, especially when or if it goes against what your doctor might recommend.
7. Literally Anything Gwyneth Paltrow Says
From vaginal steaming to diet advice, to cupping and oil pulling, Gwyneth Paltrow is known for her out there beauty and life advice. Her lifestyle website, Goop, has been criticized by health professionals for making dubious health claims about things like jade vagina eggs, but generally what's most strange about Paltrow's advice is that it's all so out of touch. That jade vagina egg costs $66, and most of the products and procedures she endorses on her site cost more than a pretty penny.
Just because a celebrity tells you to do something does not mean it's good advice, but if you like to try weird, new things, then some of these celebs are probably the only people you want to listen to.