7 Easy Yoga Stretches That Are Great For Your Health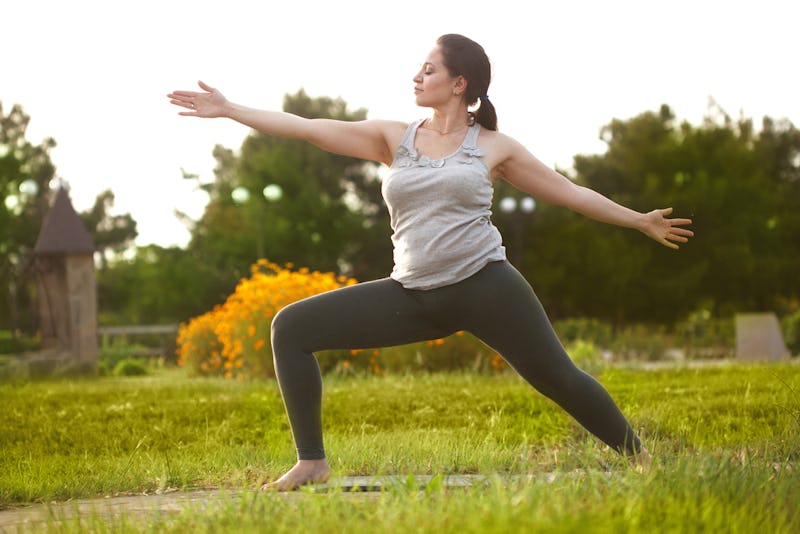 Alena Ozerova/Shutterstock
When it comes to healthy habits, there are plenty of people who swear by yoga. But even if you're not a yogi yourself, you can still reap the benefits of the practice by engaging in some yoga stretches that can improve your overall health. If the thought of going to a yoga class intimidates you, or if you prefer to work out in the comfort of your own home, you can choose some one-off poses to do on your own. There are plenty of yoga stretches that work wonders for your mind and body, and you don't have to be particularly flexible or a seasoned practioner to do them.
"Yoga is good for your health in several ways," yoga teacher Sarah Ezrin, tells Bustle. "It is probably best known for being a way to both build and maintain flexibility. As we get older, we risk losing mobility and if we are not careful, certain postural patterns can lead to permanent misalignments. Yoga also builds strength. Many poses in yoga do not only build muscle strength, but bone strength as well, as they are considered isometric exercises."
In addition to be good for your body, yoga is also good for the mind, helping to lower the stress hormone cortisol. If you're looking to reap some of the benefits of yoga, you can start with some simple poses. Here are seven yoga stretches that everyone should be doing for their health, according to experts.