8 Common Natural Hair Myths, Debunked By The Experts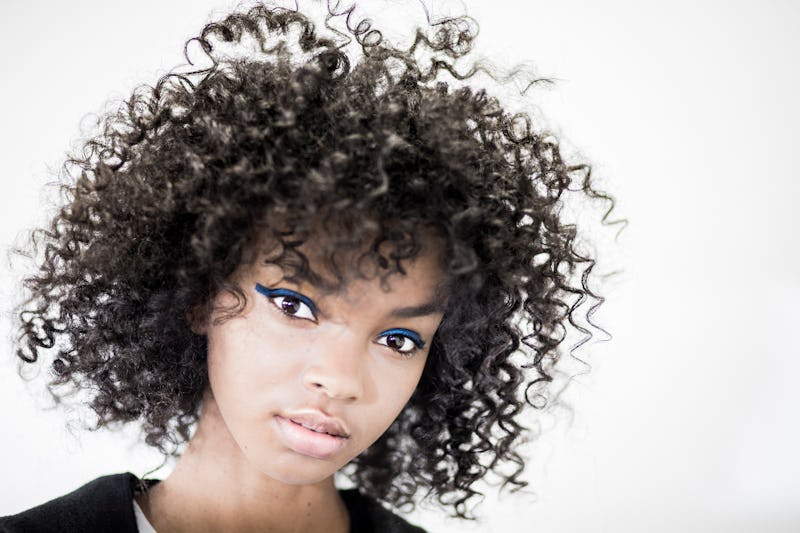 Tristan Fewings/Getty Images Entertainment/Getty Images
A natural mane can be a great source of strength and beauty, but it's the hair texture that comes along with a ton of widely believed misconceptions. With so many natural hair myths floating around, outsiders that lack the proper knowledge and even those within the kinky community often get the wrong impression of Afro-textured hair.
As a naturalista that made the transition from chemically straightened strands to natural hair just three years ago, I can admit I bought into some of the hype regarding my true texture. Halting my decision to officially transition, I initially believed relaxed hair was easier to maintain. Failing to adopt a healthy hair regimen, I even tried every braided and twisted protective style during the interim, thinking my hair could flourish without actually doing anything to it. I've even been guilty of prolonging washes, and thinking black hair doesn't have to be cleansed as often as other textures. Needless to say, I went about my natural hair journey all wrong in the beginning, but I know I'm not the only one.
In order to keep the natural hair movement powering forward, it's important to break down misconceptions about heat styling, hair growth, and manageability. Spilling the tea on common falsehoods, the curl experts at DevaCurl are here to shut down the myths.
1. Black Hair Is Strong
If you're thinking rocking natural black hair instills a sense of pride and empowerment, then metaphorically speaking, yes: Black hair is strong AF. But scientifically, Afro-textured hair is generally weaker than other textures. DevaCurl Curl Master and Educator Cal Ellis tells Bustle that a kinky-coily mane tends to be "finer and more delicate due to the structure of the hair". The tighter and drier the curl, the more you have to be careful with how you treat and manipulate your hair.
2. Natural Hair Is Harder To Manage
Guess again. It may require some extra TLC to get your curls popping just right, but maintaining natural hair doesn't have to be a major chore.
"Relaxed hair often suffers from hot tool, chemical abuse and product build up," Ellis says. "Hydrated and natural wash and gos can be easier and more beneficial with less maintenance required for a relaxer."
So before you throw your hands up in frustration, practice a little patience, pay attention to how well your hair responds to certain products, and adjust your regimen accordingly. It'll all be worth it when you can roll out of bed, spritz a little moisturizer into your 'do, and head out with a lavish fro. "Once a style is achieved and the curls are defined and healthy, with the right cut, shape and styling routine, it can actually be easier to maintain a natural look," Shari Harbinger, Co-Founder of the DevaCurl Academy, confirms.
3. You Don't Have To Wash Black Hair Often
You've probably heard this one before because it's one of the most common myths spread in the black hair community, whether you're rocking natural or relaxed tresses. Contrary to popular belief, our hair does love water despite its inability to retain moisture as well as other hair types.
"It's essential in the beginning that hydration be the number one priority," Ellis asserts. It's important to cleanse natural hair with a sulfate free shampoo that can clear build-up that may be preventing moisture from penetrating the hair shaft and cuticle. "Once the natural moisture balance has been restored, you will be able to go longer between cleansing and conditioning," he adds.
4. Greasing The Scalp Stimulates Hair Growth
My guess is that many black women can relate to my childhood experience of sitting between my mother's legs to get this awfully dry scalp of mine greased, as if it was a young curly girl's right of passage. It may be done with good intentions to moisturize and help make hair grow faster, but the practice can actually do more harm than good.
Be aware that oils and moisturizers are not the same thing. "There are benefits to oils, but they are often overused and when used too frequently, create a barrier that can actually repel moisture," Ellis tells. With too many petroleum and mineral based oils sitting atop your head, the scalp cannot breathe.
5. Braids Are The Best Protective Style
As mesmerizing as braided and twisted styles can be, without the proper care, they don't do much to actually protect our curly manes. Keeping braided or weaved styles in tact for too long, tugging at your strands excessively, and styling that is too tight can have disastrous consequences for your hair.
"Braids and twist outs that are too tight can cause breakage and hair loss, so be mindful of tension and frequency," Ellis cautions. Keep in mind that underneath a protective style, your hair still needs moisture and care, otherwise the high tension and harsh manipulation can stunt growth.
6. Heat Styling Will Ruin Your Curl Pattern
Coming from a girl who thought getting her hair straightened once after three flat iron free years would destroy her texture, this misconception begs to be debunked. While it's true that over heat styling can break the bonds of the hair, naturalistas don't have to turn their backs completely on the idea of straightening their locks.
It all comes down to using the right products to give your hair thermal protection and avoiding exposure to too much heat. "Start by using sulfate, silicone and paraben free products which promotes healthy curls," Harbinger advises. "Then be gentle, keep heat and tension to a minimum. Try not to apply hot tools over and over to the same hair that has been relaxed and already had a hot tool."
Done every now and then, and with thermal guards, you can maintain your coils and still slay sleek styles.
7. You Can Repair Split Ends With The Right Products
A word to the wise for both curly girls and women of color with perms, no product can repair your split ends despite what the packaging may claim. "You can change the appearance of split ends with some products that will bind and smooth them, but they are still there," Harbinger explains.
The only way to rid yourself of unsightly ends, is to undergo regular trims. Never sacrifice your hair health all in the name of having a little extra length. It's just not worth it!
8. Natural Hair Doesn't Grow
A former coworker once asked me why natural hair can't grow past a certain length. It was an offensive and just plain ol' dumb question if you ask me, but one that many naturals may even ask themselves. While the DevaCurl experts assert heredity can be a contributing factor, there is no scientific data backing up the notion that there is a limit to how long natural hair can grow.
"The tighter the curl, the less visible length can be seen," Harbinger confirms, if you weren't already hip to the fact that shrinkage is real, my friends. Never get too caught up in tracking your hair growth because it won't be visibly evident when your hair is tightly coiled. Makes sense, right?
In the name of keeping the happy curl, happy girl motto going strong, don't fall victim to believing the negative hype that swarms natural hair. Embrace the curly headed goddess you were meant to be by giving your coils the proper TLC, free of the misconceptions that may deter naturalistas.
Images: Tanja Heffner; Atikh Bana/Unsplash; nathelly_cris, Pexels, MinistaJazz/Pixabay; Summer Arlexis (2)