President Trump Has A Hypocritical Streak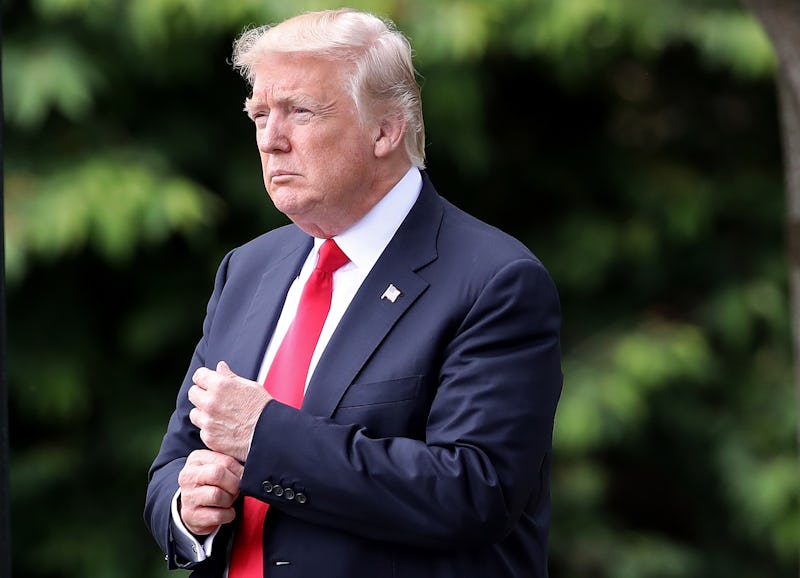 Win McNamee/Getty Images News/Getty Images
President Trump talks a lot. More specifically, he says a lot. He communicates endlessly through his notorious Twitter account, the ever-entertaining Press Secretary Sean Spicer, and of course, his actions on the world stage. And while Trump remained uncharacteristically silent on the day of former FBI director James Comey's testimony in the Senate, let's not forget the hypocritical things Trump did and said this week.
Recently and abruptly fired by Trump, Comey's testimony in front of the bipartisan Senate Intelligence Committee was more anticipated than most. Comey reasserted his claim that the president encouraged him to drop the FBI's investigation into former national security advisor Michael Flynn. When the claim first arose shortly after Comey's firing, Trump boldly denied it, tweeting, "James Comey better hope that there are no 'tapes' of our conversations before he starts leaking to the press!"
Therefore, Trump's silence on Thursday, as Comey reiterated the claim and answered questions about his relationship with the Trump administration on the record, came as a surprise. But, of course, he piped up on Friday, and his other words and actions have spoken volumes in recent days.
He Criticized Sadiq Khan
After an explosion rocked Manchester last month, President Trump vowed "complete solidarity" with the United Kingdom. Then, the president criticized London mayor Sadiq Khan for his alleged response to the deadly attack near London Bridge. Trump tweeted that Khan had told Londers there was "no reason to be alarmed," but it's not clear the mayor ever said such a thing.
He Ignored Pride Month
Trump spoke at the conservative "Road to Majority" conference, organized by the evangelical Faith and Freedom Coalition, which has been accused of being anti-LGBT. He wasn't the only Republican lawmaker in attendance, but Trump's presence was disappointing to many Americans, as he previously promised to "protect our LGBTQ citizens." Maybe Trump forgot that Pride Month began last week.
He Switched Gears On Qatar
In a series of tweets this week, Trump identified Qatar as a hotbed of "radical ideology." He praised Saudi Arabia and other Middle Eastern countries for taking "a hard line on funding." Meanwhile, CNN reported Thursday that the president reportedly spoke with Qatari officials on Wednesday, offering them the chance to meet at the White House.
He Demanded Loyalty From Comey
According to Comey's Senate testimony on Thursday, Trump demanded "loyalty" from the FBI director. (Trump's lawyer, however, denied that the president ever made the request.) Ironically, Trump didn't want to pledge loyalty to his own party during his presidential election campaign. During the primaries, Trump reportedly wouldn't rule out the notion of running as an independent candidate if he couldn't secure the Republican nomination.
He Allegedly Mishandled Donations
Last year, then President-elect Trump complained that his son, Eric, felt compelled to step away from the Eric Trump Foundation in order to avoid a conflict of interest. The Foundation has raised more than $16 million for St. Jude's Childrens Research Hospital over the last 10 years.
This week, Forbes reported that the Donald J. Trump Foundation and the Eric Trump Foundation may have funneled donations into revenue for the Trump Organization. A spokesperson for Eric Trump said the Trump Organization never profited from the Foundation or its activities, adding, "While people can disagree on political issues, to infer malicious intent on a charity that has changed so many lives, is not only shameful but is truly disgusting. At the end of the day the only people who lose are the children of St. Jude and other incredibly worthy causes."
He Proposed Solar Panels For The Border Wall
The week after Trump withdrew the U.S. from the Paris Climate Accord, he reportedly proposed a confusing solution to pay for his beloved border wall. According to The Guardian, he wants to use solar panels to adorn the wall in "beautiful structures." Critics and experts say that solar panels on the wall isn't practical — and given the president's decision to withdraw from the Paris climate agreement, it comes across as a thinly veiled attempt to assuage concerned Americans.
He Re-Joined The Healthcare Bandwagon
During last year's presidential campaign, Trump made repealing and replacing the Obama-era Affordable Care Act a key part of his platform, practically turning "repeal and replace" into a GOP battle cry. Then, in March, he encouraged House Republicans to scrap their plan for an alternative healthcare system, due to a lack of support. Now, on Wednesday, Politico reported that Republican officials found Trump to be "all in" with the GOP's plan to move healthcare reform through the Senate.
He Attacked Comey
After staying silent for most of Thursday, he went after Comey on Friday in a press conference. Trump, who had previously mentioned Comey had better hope there weren't tapes of the conversations, confusingly stated that he'd be telling the public something about tapes "in the near future" and then adding that everyone would be disappointed by it. He also said Comey lied under oath, and that he would testify, 100 percent.
Trump's tweets, decisions, and even his actions seem to contradict themselves frequently. As a result, where his social media presence could offer transparency, it really just breeds ambiguity.