Trump Mocked London's Mayor After The London Bridge Attack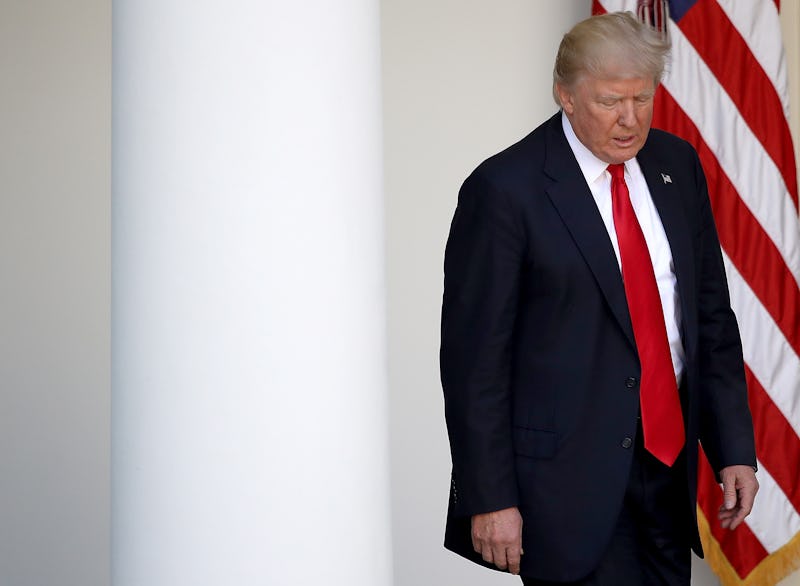 Win McNamee/Getty Images News/Getty Images
On Sunday, President Trump tweeted a response to London's mayor after a deadly attack occured on Saturday near London Bridge. In the tweet, Trump criticized Mayor Sadiq Khan for allegedly saying there was "no reason to be alarmed." According to The Guardian, it's not clear that Khan actually used that phrase in his response to Saturday's attack.
Per reports, at least seven people were killed — and another 48 were injured — when a van ran into pedestrians on London Bridge and three men stabbed people in a nearby market on Saturday. The three men were reportedly shot dead by police at the scene. The deadly attack occured just two weeks after an explosion at an Ariana Grande concert in Manchester left more that 20 people dead.
In response to Saturday's attack, which British Prime Minister Theresa May later called "a brutal terrorist attack," Khan encouraged "all Londoners and visitors to our city to remain calm and vigilant." The statement, as posted to Facebook on Saturday, did not — as Trump alleged — use the phrase "no reason to be alarmed." Khan also shared a video message via Facebook on Sunday, where he reiterated his guidance to "remain calm and vigilant," while also calling the attack "sickening."
Trump's response to the London attack came in a series of tweets over the course of Saturday and Sunday. In an earlier tweet, the U.S. president himself had encouraged followers to be "smart, vigilant, and tough." He also used the attack to again call for his "travel ban," which would block people from certain Muslim-majority countries from entering the U.S. Khan — who is London's first-ever Muslim mayor — has previously received criticism from President Trump's son, Donald Jr. In both instances, then and now, Khan has refused to respond, focusing instead on "more important things."
Although there seems to be no evidence that Khan told Londoners that there was "no reason to be alarmed," perhaps Trump took issue with Khan's guidance to "remain calm." Interestingly, remaining calm has historical significance in British culture. The iconic phrase "Keep calm and carry on" was first developed to be used as a British morale-boosting slogan ahead of World War II. Although, according to Business Insider, it wasn't actually used at the time, it has become a recognizable British phrase in the present day. At this point, Londoners — and all members of the U.K. — could likely use the morale boost, as Saturday's incident marked the third violent terrorist attack in the country since March.