8 Organizations Providing Relief To Southern California Wildfire Victims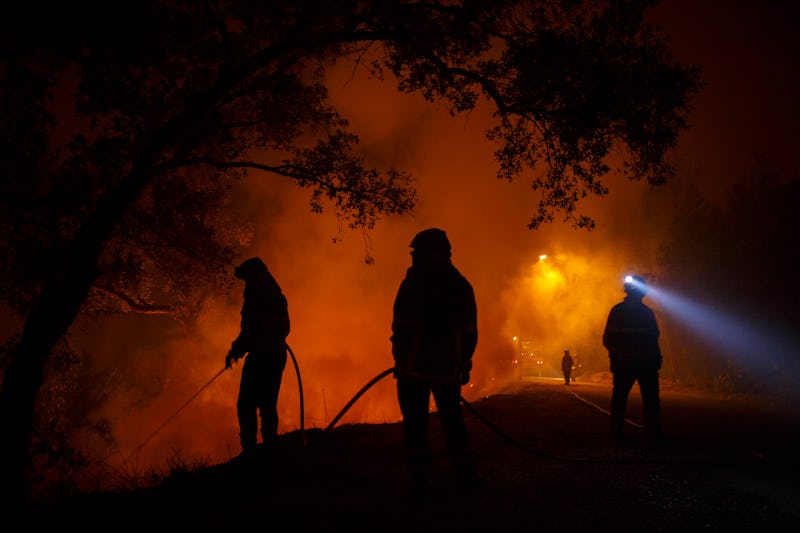 Pablo Blazquez Dominguez/Getty Images News/Getty Images
As Southern California continues to battle wildfires, which began in Santa Paula on Monday and have already destroyed more than 150 buildings in Los Angeles and Ventura counties, hundreds of thousands of people are in need of help. Some people have already had their homes burned to the ground, while others fear for the safety of their pets and animals. If you want to donate your money or volunteer, it's worth looking into several organizations dedicated to helping the Southern California wildfire victims.
The wildfires were thought to have been caused by the Santa Ana winds, which can reach hurricane-level speeds, and by the mountain ranges along Southern California, which are known to trap cool coastal air, creating fire-prone conditions for the LA region. So far, over 120,000 acres of land have already been destroyed and 200,000 people have been forced to evacuate their homes. The National Weather Service warns that wind speeds will increase through Friday, and that the fires have already begun to spread to San Diego.
As the fires continue to grow and are fueled by gusting winds, the Ventura County sheriff warned the public against people who might try to take advantage of the victims by setting up fake charities. Before you donate to a charity, especially online, make sure to verify that it's credible. For the time being, though, here are several worthy organizations you can dedicate your time or money to if you want to help wildfire victims and evacuees.
United Way Of Ventura County
United Way of Ventura County, the American Red Cross of Ventura County, and the Ventura County Sheriff's Office of Emergency Services have formed a partnership in order to help community relief efforts in the wake of the fires. The local charity is accepting financial donations for its Thomas fire fund online and through texting UWVC to 4144. All of the proceeds will go directly to the fund.
American Red Cross
The Red Cross has set up three shelters in Southern California to help the people that have been forced to evacuate from their homes in the crisis. An estimated 600 people are currently being housed on the grounds, and still need donations and resources.
The Red Cross is accepting donations online, by phone at 800-733-2767, and via texting REDCROSS to 90999.
Salvation Army
The Salvation Army Ventura Corps is asking for food and money donations in-person (650 S. Petit Avenue, Ventura, CA) and donations can be made online for evacuees at Ventura County Fairgrounds. The charity said that food and money donations are especially helpful, and they are also distributing clothes and toiletries among other items.
The Humane Society Of Ventura County
The Human Society has taken in around 300 animals, and is in need of donations of alfalfa hay timothy hay, and water troughs, as well as volunteers who can help clean the kennels and cages and feed the animals. has taken in roughly 300 animals. The charity is taking donations online.
Ventura County Community Disaster Relief Fund
Created by the Ventura County Community Foundation, the fund helps organizations that are providing shelters and housing, legal services, education, and health care to the victims of the wildfires and is accepting donations online.
California Community Foundation's Wildfire Relief Fund
The organization supports immediate and long-term recovery efforts for California wildfires, as well as ways to prevent them in the future. The fund helps people who have suffered long-term physical and mental health problems as a result of the fires, helps to rebuild homes, and provides basic services. Donations can be made online.
YouCaring
The crowdfunding website has dozens of fundraisers for specific families and victims who lost their homes due to the fires. You can visit the YouCaring website and donate to families directly.
Airbnb
The service is encouraging California homeowners to sign up and offer their homes up to evacuees for safe emergency housing for free. People can sign up online to open up their homes.
Even if you're not located in California, there are still plenty of ways for you to help the recovery efforts. More than anything, that means lending a hand to the people who have been impacted most severely.