8 Ways 1920's Football Icon Lily Parr Changed The Game For Women In Years To Come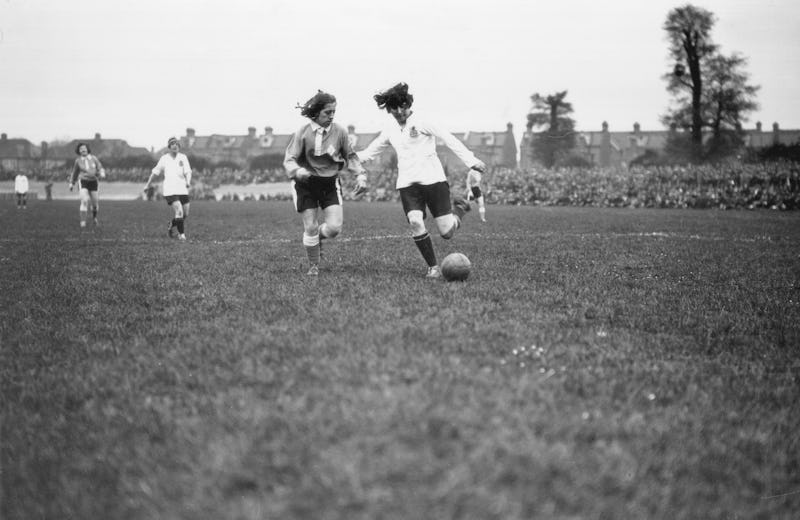 Hulton Archive / Staff / Getty Images
Although the Women's World Cup had its inaugural tournament in 1991, women's football dates all the way back to the 1890s. Many people's knowledge of female footballers might begin and end at Bend it Like Beckham, but history has a long list of women players who fought to have their talents taken as seriously as their male counterparts. Among the most celebrated of these is Lily Parr, who had an incredible footballing career from 1919 until 1951.
When WWI broke out, the men of Britain were dispatched to the front lines and women were sent to the country's munitions factories. The new female factory workers were encouraged to exercise, and to play football in particular, not only to keep fit but also to keep their minds off of the war. Of the 900,000 women who worked in the factories, around 150 football teams were created, each representing their respective factory.
The most successful of these teams was Dick, Kerr's Ladies, who had Lily Parr as their secret weapon. A pioneer and a role model, Parr made it her life's mission to prove women could play football just as well — if not better — than men. From contradicting gender stereotypes to living openly as a gay woman, Parr paved the way for future generations of women both on and off the pitch.
Here's what you need to know about Lily Parr, the 1920s trailblazing, goal-scoring winger who changed women's football forever.