The Royal Jewelry Moments From History That Will Get You Excited For Meghan Markle's Bling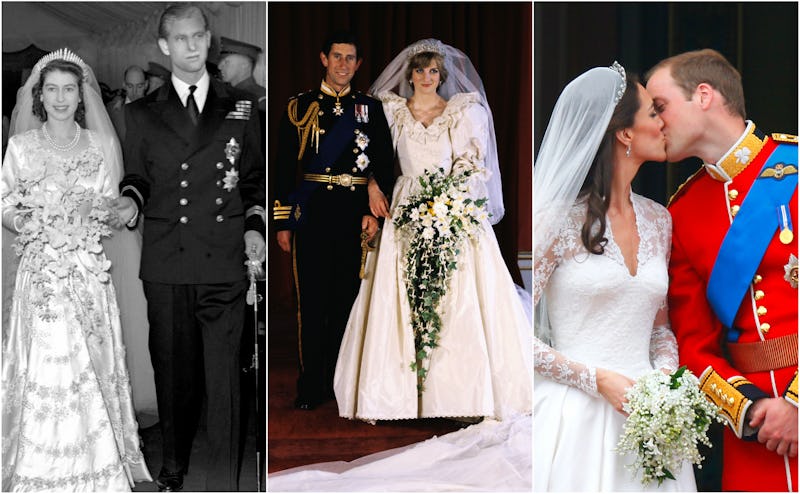 The royal wedding of American actress Meghan Markle and Prince Harry will take place on May 19, and royal fever feels like it's at an all-time high. The tradition, romance, pomp and circumstance of the occasion (not to mention the fabulous royal wedding jewelry that will be on display) is enough to whip even the most jaded of onlookers into a fervor. For fashion lovers, it's arguably the event of the year. Markle's gown, hair and makeup are a constant topic of discussion leading up to the event, but one of the most fascinating elements of the bride's wedding day attire is her jewelry.
Markle will most likely be wearing plenty of jewelry, but it's also likely that the pieces won't be anything that the average person could get for their wedding. British royal wedding jewelry has a rich history, with pieces that outdate us all by hundreds of years. The royal family owns a vast collection of jewelry, and many a royal bride has borrowed from this caché for their own big day. Luckily for Markle, the selection is such that she won't have to deviate from her personal stylish aesthetic with her royal wedding jewelry choices — there's something for everyone. She would look equally as glamorous in the Cambridge Lovers Knot Tiara made famous by Princess Diana as she would in the more surprising art-deco style of the Lotus Flower Tiara belonging to the late Queen Mother. It's unlikely she'd pick something as delicate and historically significant as Queen Elizabeth I's famous pearls, but wouldn't that be incredible if she did? History and jewelry buffs alike would be swooning. It's almost unheard of for a modern royal to wear a piece of jewelry dating prior to the Victorian era, but luckily, Queen Victoria had beautiful, timeless taste.
Queen Victoria
In 1843, in the midst of the Victorian era, The House of Garrard was appointed Crown Jeweler by Queen Victoria. When she married Prince Albert of Saxe-Coburg and Gotha at St. James Palace in February of 1840, she chose delicate floral wreath made of orange blossoms (symbolizing chastity and fertility) instead of a tiara. Technology was still about a decade away from modern photography, so Queen Victoria and Prince Albert posed for a reenactment of their wedding in 1853, giving us a glimpse at their attire.
Lack of tiara notwithstanding, Queen Victoria wasn't totally without sparkle. According to the Royal Collection website, she also wore diamond necklace and earrings made by Rundells that were gifted to her by Sultan Mahmud in 1838, thereafter known as the "Turkish Diamonds."
If that weren't enough bling, Marie Claire reported that Queen Victoria also wore a blue sapphire brooch gifted by her beloved Prince Albert. That particular jewel has been passed down through the generations — in fact, the Royal Collection website writes that it's one of the current queen's favorite pieces, and served as the inspiration for the House of Garrard sapphire engagement ring that was passed down from Princess Diana's ownership to Kate Middleton's.
Queen Elizabeth II
Queen Elizabeth II opted to wear a beautiful Russian tiara with it's own interesting history at her wedding to Prince Philip at Westminster Abbey in 1947 — and her choice of precious ornaments came with a healthy dose of drama. According to House of Garrard in an interview with Marie Claire, Queen Elizabeth had planned to wear Queen Mary's Fringe Tiara at her wedding. The Fringe Tiara consists of 47 diamond bars, taken from a necklace that Queen Mary received from Queen Victoria. It's valued at $168,480. On the morning of, her hairdresser snapped the tiara in half. In a frenzy, a police escort took the tiara back to House of Garrard who fixed it just in time for the wedding.
Princess Margaret
Not to be outdone by her sister, Elizabeth II, Princess Margaret decided to eschew all choices from the royal jewelry collection and instead wear something from outside the royal family's readily available selection. Hello Magazine writes that the antique, silver-topped diamond tiara was made by the House of Garrard in the 1870s, and made a bold statement on behalf of the vivacious princess. No one knows exactly whether it was a gift from Queen Elizabeth, the Queen Mother, or whether Margaret bought it for herself — which would definitely befit her independent spirit. A little over a decade ago, Margaret's children sold it at auction for $1,257,736, upsetting many that the royal family didn't purchase it in an effort to keep it in the family.
Princess Diana
At one point, the wedding of Prince Charles and Lady Diana Spencer felt like the event of the century, and Diana's now iconic look will forever remain in the hallowed halls of legendary wedding style. According to People, Princess Diana did not borrow a tiara from the Queen. Instead, she wore her family's tiara, known as the Spencer Tiara. It technically belonged to her father, though she wore it many times after the wedding as well.
Royal jewelry expert Ella Kay, writer and editor of The Court Jeweler, tells Bustle that, "Without a doubt, the Spencer Tiara is the royal wedding jewel that has most captivated the public imagination. Part of it is the legacy of Diana and the public's fascination with her, and part of it is the fact that the tiara traveled the world with Diana's wedding gown in the Diana: A Celebration exhibition, allowing so many people to see it sparkling in person."
Spencer Tiara aside, the most talked-about piece of jewelry was and continues to be the sapphire blue engagement ring that now adorns the hand of Duchess Kate. This iconic ring is a 12-carat sapphire surrounded by 14 solitaire diamonds and set in 18-carat white gold. Originally valued at $47,000, the ring is now worth approximately $500,000.
Sarah Ferguson, Duchess of York
When Prince Andrew married Sarah Ferguson, aka Fergie, in July 1986, royal watchers were eager to see if this boisterous redhead would flout traditional convention. It turns out that she did, in a way. Entering the church wearing a perfectly '80s puff-sleeved dress and with a veil adorned in flowers, Fergie opted for a surprising tiara quick change after the ceremony. According to Hello Magazine, in the moments between leaving the Abbey and before walking out into the street, Sarah Ferguson swapped out her flower crown for a brand new House of Garrard tiara — a gift from the Queen to her new daughter-in-law. Business Insider reported that the Queen also gifted Sarah Ferguson with a matching necklace, bracelet, and earrings — all of which were valued around half a million dollars.
Camilla Parker-Bowles, Duchess of Cornwall
Prince Charles' marriage to Camilla Parker-Bowles was a civil ceremony followed by a blessing, making their wedding pretty low-key. For this reason, Parker-Bowles opted against wearing a tiara and gown, instead choosing a fantastically whimsical day hat and matching suit. That does not mean, however, that her jewelry wasn't up to snuff. While Camilla has access to a treasure trove of jewels, her most prized piece is her vintage engagement ring. It belonged to Prince Charles' grandmother, the Queen Mother, and is a 1930s art deco-style diamond ring valued at $271,426. It may not be a tiara, but it certainly isn't anything to sneeze at, either.
Kate Middleton, Duchess of Cambridge
The wedding of Prince William and Kate Middleton was the last major royal affair before Prince Harry and Meghan Markle's upcoming nuptials, and the upcoming event likely has many thinking back to 2011 when the Duke and Duchess of Cambridge wed. According to Glamour, Middleton came from a non-royal family, and didn't have a family tiara to wear on her big day. She borrowed the Cartier Halo Scroll Tiara from the Queen's personal collection. Town & Country reported that the piece was initially an anniversary gift from King George VI to the Queen Mother, until the couple later gave it to Queen Elizabeth as an 18th birthday gift. Elizabeth II offered the tiara to Middleton on her wedding day — in fact, it was her "something borrowed."
According to Glamour, Meghan Markle will not be using the same tiara as Kate Middleton, leaving royal watchers in suspense as to what this stylish American woman might choose to adorn herself with on her big day. Royal weddings past are not only cemented in the annals of history, but are steeped in the cultural zeitgeist. Queen Victoria's decision to wear a white wedding gown singlehandedly made white gowns de rigueur for brides the world over –even to this day, 178 years later. Princess Diana's sapphire ring has inspired countless replicas and caused a resurgence of Welsh gold in the '80s. Sarah Ferguson made flower crowns chic again. Even just the knowledge that Kate Middleton did her own makeup at her wedding deeply resonated with people, endearing her even further to the public. Whether you're a cynic or a romantic, there's no denying the profound cultural impact of a royal wedding, and the styling and jewelry plays a large part.