Meghan Markle Has The BEST Tiara Options For The Royal Wedding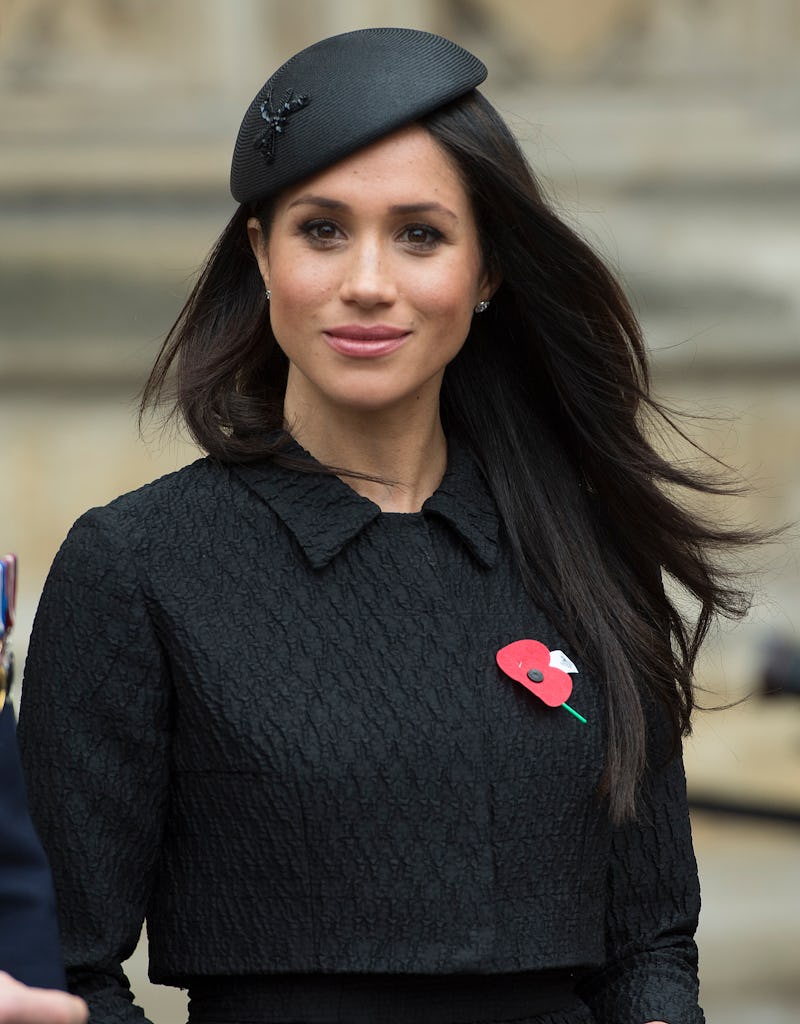 WPA Pool/Getty Images Entertainment/Getty Images
She's not even officially a member of the royal family and Meghan Markle is already living the dream. On the verge of marring an IRL prince, the former Suits actress just may get her hands on a crown. But the real question is, will Meghan Markle wear a Tiara to the royal wedding, considering she isn't exactly known to follow tradition.
Ever since news broke that Markle and Prince Harry were preparing to declare "I do", royal family followers have theorized about the big day. Unfortunately, there are only a few things royal watchers can say they know for sure. The couple's wedding day music has been revealed, Prince George and Princess Charlotte will for sure star in the ceremony, and where Markle and Prince Harry will live post-wedding is even public knowledge. But more than anything, deets of how exactly Markle will play dress-up is what everyone is dying to know.
Aside from a little chatter concerning the wedding dress Markle will wear, much hasn't been specified about the sparkly headpiece the soon-to-be bride may don. Come the official May 19 wedding date, fans will find out for sure. But until then, it's best to take will she? or won't she? tiara news with a grain of salt.
The truth: no one can say for sure that Markle will compliment her gown with a sparkly tiara. No official word has come from the Kensington Palace press, so any word on the subject is simply speculative. Of course, opting for the luxury headpiece would fall in line with royal tradition, but as any Meghan Markle lover knows, girlfriend has a knack for doing her own thing.
This is the future Duchess who breaks royal fashion rules like there isn't a strict Queen analyzing her every move. Markle wears black when isn't supposed to, she rocks a messy bun even though it isn't protocol, and she isn't afraid of showing off her legs sans pantyhose. So, what's not wearing a tiara to a gal that turns a blind eye to royal rules in the name of looking casually fierce?
In other words, it wouldn't be shocking at all if she opts to do the opposite of what other royal women have done on their big day.
Then again, Markle could fall in line and rock the sparkle — and should she choose to follow her predecessors, the royal vault has some drool-worthy options.
Word on the street is, Kate Middleton's former headpiece is totally out of the question, though. The Cartier Halo Tiara, loaned to Middleton by Queen Elizabeth herself, is currently on display at the National Gallery of Australia from March 30 to July 22 as a featured item in the Cartier exhibition. But there is plenty more royal bling where that came from.
Markle's future headdress could be that of Princess Diana. Markle's engagement ring borrows diamonds from Princess Di's personal collection, so it wouldn't be out of the ordinary for her to accessorize with the Spencer Tiara like her late mother-in-law did on her big day. There's even the Cambridge Lover's Knot Tiara (Queen Mary's Tiara) that Princess Diana once wore, an even more dramatic option for a fashion rebel like Markle.
Since Markle is known for bending the rules, the Strathmore Rose Tiara could be quite the suitable bling. Its flower-crown like design sets it apart from other more traditional crowns in the royal vault, which may make it all the more appealing to Markle.
She could even try the Fringe Tiara, previously worn by Queen Elizabeth II, on for size. Quite the statement maker, it's a masterpiece loaded with so many jewels, it would be hard to look away from Prince Harry's future wife as she cascades down the aisle.
There's a ton of uncertainty, but one thing is for sure: if Markle does decide to wear a tiara, she's likely going to have a hard time choosing her bling. The royal archives are filled with just too many worthy accessories that make the decision equally as difficult as finding the right dress. Talk about royal bride problems!