'Comedy Jam': 8 Things You Won't See On TV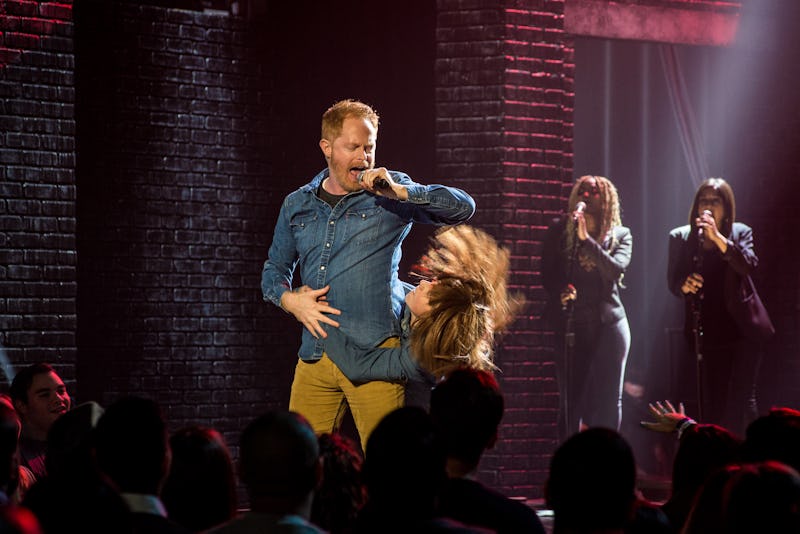 Comedy Central
It's impossible to predict what is going to happen during a TV show taping, especially when comedians, rock stars, and alcohol mix. So when Comedy Central invited Bustle to attend a taping of the network's new star-studded show Comedy Jam, I knew I couldn't turn it down. With a night full of stand-up routines from comedy legends like Jay Pharoah, Malin Akerman, and Busy Phillips, along with the promise of amazing surprise musical guests, I thought I knew what I was in for. But four hours later, I went home laughing at my earlier naïveté.
Comedy Jam comes from the mind of Josh Adam Meyers, host and creator of his 2014 live show The Goddamn Comedy Jam, where every comic got to be a rockstar. "A List" comedians would do standup sets followed by a performing a cover song that somehow went along with their set. Comedy Central's series is a taped version of that same show, with Meyers back as host. The eight episode season (premiering Wednesday at 10 p.m.) will feature three comedians per episode, with names like Mark Duplass, Jesse Tyler Ferguson, Chris Hardwick, Taryn Manning performing alongside iconic musical guests like Richie Sambora, Natalie Maines from the Dixie Chicks, Chester Bennington from Linkin Park, and so many more.
Armed with that information, I arrived at the Fonda Theatre in Hollywood for a taping of the season finale along with another episode. I knew I was going to see Matteo Lane, Jon Rudnitsky and James Davis perform along with Pharoah, Akerman and Phillips. But when I arrived, my host for the night informed me I'd also be seeing Hal Sparks after Idina Menzel dropped out of an earlier taping, and they needed a third performer for that episode. That's right, bonus performance! Things were already looking promising, and the night only continued to go up from there.
The world will get to see all the same performances I witnessed that night, from Pharoah bringing out DMX to sing "Party Up," to Sparks performing AC/DC's "Back in Black" with Sebastian Bach, to Rudnitsky bringing out Kenny Loggins for a high-energy cover of "Footloose," to Davis performing "This is How We Do It" with none other than Montell Jordan. This '90s kid lived out all her childhood dreams in one night. It was like a NOW! CD brought to life.
But there are definitely some incredible things I witnessed that night that won't be included in the final version of the episode. I wish everyone could have been at the live-taping to see it for themselves.
1. The Host Kicks It Off
Meyers wasn't going to let the night get started without showing everyone how it's done. He came out onstage to warm up the crowd by performing his own standup routine and song, and I really wish the cameras were filming when he was onstage. His story about getting arrested on his birthday for dropping a bag of cocaine on the ground in front of cops and having them all sing him "Happy Birthday" while he was getting cuffed was instantly iconic.
Then, while singing "Slither," his "hype men" Moshpit and Razorblade threw fake cocaine all over the stage. While the baby powder prop definitely went with his set, it also delayed the start of filming: crew members had to come out and use plastic water bottles and mops to clean it all up. It really put the show behind schedule, as the crew then had to dry the stage, so the audience was told there would be no more breaks for the rest of the night to make up for time lost. It was going to be performance after performance until it was all done. I was definitely not complaining!
Meyers also got dropped once while crowd surfing during his song — a true rock star move.
2. Minor Accidents
During Davis' performance with Montel Jordan, the two — in matching all black ensembles — got into a riff battle, but James accidentally dropped his mic. He recovered pretty well, but I couldn't stop laughing at that slip.
3. A Forgotten Prop?
While Phillips got to play total '90s rocker chick channeling Courtney Love while performing "Violet" by Hole, a leopard print jacket was just chilling on the back corner of the stage the whole time. She never picked it up or wore it. Did she forget it was there, or was it just a stage prop? I'll probably never know the answer, and I'm totally fine with that: I'm still not over the way Phillips left me fangirling after her badass showing. She even flipped off the crowd at the end of her song! If Phillips ever wants to switch tracks from acting, she's got a career as a rockstar just waiting for her.
4. Wardrobe Malfunctions
While chilling in the green room with all the comedians and musical guests (where I was constantly pinching myself), I offered Akerman my seat on the couch so she could relax before her set. She declined, laughing about how her jumpsuit is too tight for her to sit.
And during Rudnitsky's set, he had no idea but his fly was open the whole time. He didn't realize it until he came to the green room after his performance. Time for some creative editing in post-production!
5. Liquid Courage Flowing Backstage
Before Akerman absolutely slayed her rendition of "Enter Sandman" by Metallica — not an easy song to sing, as anyone who's ever attempted it at karaoke can confirm — she made sure that a shot of tequila would be waiting for her as soon as she walks offstage. The crew, of course, obliged.
And the alcohol was flowing in the green room, so much so that when we ran out of wine, Sebastian asked a crew member to get him another bottle of red. Meyers ended up getting a production assistant to find some, and we all cracked it open for another glass. When we ran out of cups, people just started casually swigging from the bottle. I even started to smell the telltale scent of weed, and things went from casual backstage drinking to a full-on rager in a matter of minutes. The afterparty was scheduled for later that night on the roof of the theatre, but we didn't waste any time in getting it started.
6. Celebrities Get Starstruck, Too
Group photos and selfies were being taken left and right, but the most popular guest was definitely Skid Row's Bach. And I have to say, as a big Gilmore Girls fan, I was on cloud nine hearing his signature voice and seeing that glorious hair in person. As Akerman was performing onstage, he kept singing along in the green room and everyone, including myself, was mesmerized.
7. Staying In Character
I truly hope this gets included in the actual episode: after Akerman's performance, she kept her rockstar facade up and got in a fight with a cameraman trying to record her exit interview. She really committed!
8. The Real Party
Watching the taping from the green room was the right call: it truly turned into an actual party! From all the stars practicing their vocal warmups to mingling with other guests, there was always something to laugh about. Logan Lerman showed up to support his friend Rudnitsky, Lane invited Akerman to NYC and started speaking Italian to her friends, Nicole Bayer arrived to watch Pharaoh and DMX, and whenever I stood near Bach I got a contact high from his vape pen.
The party was in full swing as Pharoah closed out the night with his set after DMX's flight got delayed and he almost missed the taping. That meant that the first time they performed together was during the actual taping — it's a good thing nothing went wrong!
So while you may not be able to rub shoulders with some of comedy's finest and rock gods in person like I did, at least now you'll be able to feel like you were still a part of the party when watching Comedy Jam.