8 Women Say Charlie Rose Sexually Harassed Them & The Details Are Sickening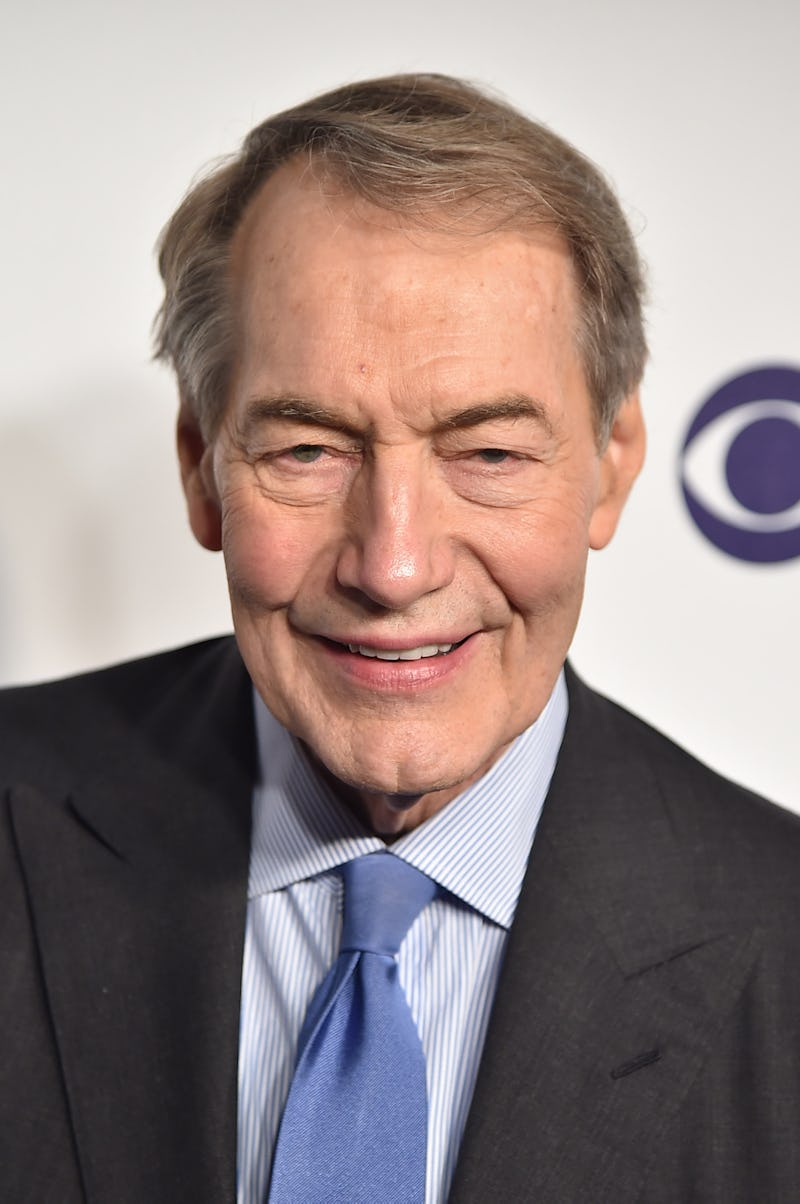 Theo Wargo/Getty Images Entertainment/Getty Images
Veteran television host Charlie Rose has been accused of sexual harassment by at least eight women who say he initiated inappropriate phone calls, walked around naked in their presence, and groped them. The allegations come via The Washington Post, which broke the story late Monday.
In a statement given to the Post, Rose said that he "deeply apologized" for the behavior, adding, "I am greatly embarrassed. I have behaved insensitively at times, and I accept responsibility for that, though I do not believe that all of these allegations are accurate. I always felt that I was pursuing shared feelings, even though I now realize I was mistaken."
According to the Post, all of the women were either employees or would-be employees of the Charlie Rose show "from the late 1990s to as recently as 2011." Each of their stories, notes the report, is similar in its allegations. From the Post:
Most of the women said Rose alternated between fury and flattery in his interactions with them. Five described Rose putting his hand on their legs, sometimes their upper thigh, in what they perceived as a test to gauge their reactions. Two said that while they were working for Rose at his residences or were traveling with him on business, he emerged from the shower and walked naked in front of them. One said he groped her buttocks at a staff party.
Reah Bravo, one of the three women to speak on the record, described Rose making unwanted advances in private plans, hotel suites, and at his estate in Bellport, New York, while she worked first as an intern and then as an associate producer for Rose's PBS show.
Kyle Godfrey-Ryan, who worked as an assistant to Rose in the 2000s, told the Post about "at least a dozen instances where Rose walked nude in front of her while she worked in one of his New York City homes." She also alleged that her then-boss would call her to "describe his fantasies of her swimming naked in the Bellport pool as he watched from his bedroom."
According to the report, Rose's behavior wasn't exactly a secret, with one of the women saying she told Rose's longtime executive producer about the behavior, to no avail. Two former employees told the newspaper that young women hired by the show were sometimes referred to as "Charlie's Angels," with Rose's unsolicited shoulder rubs deemed "the crusty paw" by those who worked for him.
Several of the women claimed that Rose's behavior vacillated from glowing flattery of his female subordinates to volatile outbursts. A former producer of the show backed up Godfrey-Ryan's accusations that Rose would repeatedly attack her in front of others, adding: "He once said that because she hadn't gotten a college degree she would never amount to anything better than his secretary."
In total, the publication spoke with six former employees who said they considered Rose's behavior to be harassment, eight who said his treatment of female employees made them uncomfortable, and 10 who said they did not witness or hear of harassment.
Upon the publication of the allegations, PBS announced that it was "shocked to learn today of these deeply disturbing allegations" and would be immediately suspending the distribution of Charlie Rose.
Rose is the latest male member of the media to be accused of sexual harassment. Earlier today, Vox reported that New York Times White House correspondent Glenn Thrush was accused of acting inappropriately toward female journalists. Thrush is now suspended pending an internal investigation. Vox Media's own editorial director, Lockhart Steele, was recently fired for misconduct and, in October, five women alleged that Mark Halperin sexually harassed them when he was an ABC News political director.
Rose's namesake show airs on PBS. In addition, he serves as a contributing correspondent for 60 Minutes and co-hosts CBS This Morning.