Get Involved Because These Super Affordable Plus Size Brands All Ship To The UK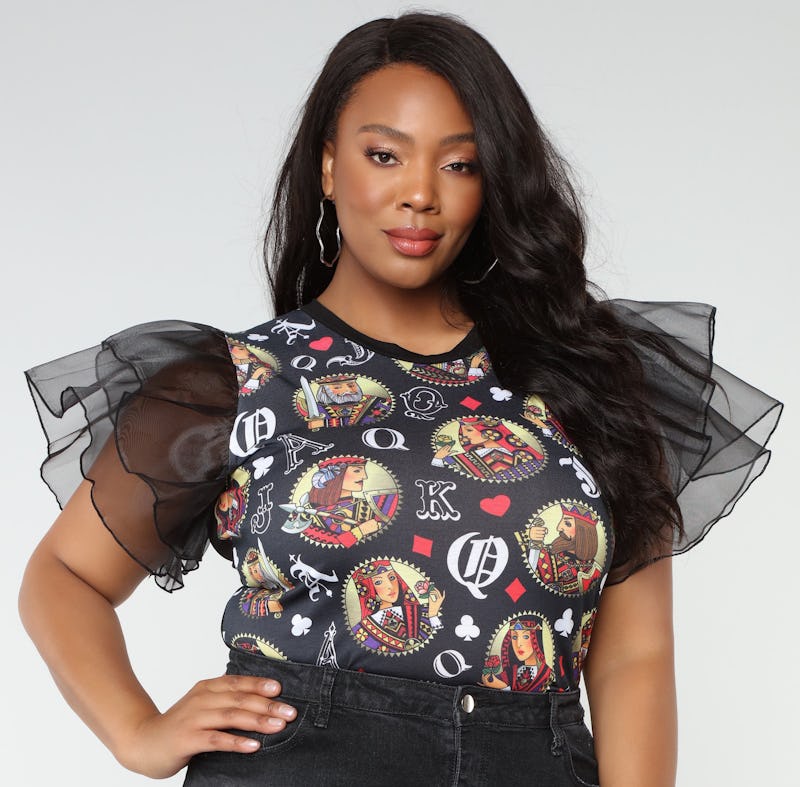 Courtesy Fashion Nova
Besides a shared language (sometimes), many might argue that the U.S. and the UK actually have very little in common. Where more than three-quarters of Americans identify as Christian, according to the Washington Post, nearly 50 percent of Brits are secular, reports the Guardian. An American may not think twice about sending back a steak that's been left raw despite their medium-well order at a local restaurant. A Brit would, generally speaking, rather keep their head down. Even so, the nations undoubtedly overlap when it comes to one thing: their production of plus size fashion. Or, perhaps more accurately, their lack of production of plus size fashion. Thanks to international shipping options, however, dipping our toes into the transatlantic plus size shopping pool is getting a little easier.
Despite heightened cultural conversations about "body positivity" and "fat acceptance," the truth is that shopping for clothing above a UK size 18/20 is still far from a particularly pleasant experience — especially shopping IRL. Plus size indie brands and established e-commerce sites are definitely easier to come by than ever before, but in comparison to the straight size market, well, our options are limited. As for shopping in the actual world, it's still nearly impossible for a plus size babe to step out of a shopping centre carrying bags without Yours Clothing, Evans, or SimplyBe printed on the sides. And if you're above a UK 34, forget about it. Stylish clothing is still nearly nonexistent both on the web and the high street.
One way to broaden our options from the UK is to borrow from the Americans, though. More and more brands are offering international shipping options. Some are even offering deals to British consumers. While it's true that no good postage deal will help you avoid that pesky duty charge for goods purchased abroad (typically 20 percent of the total price paid), a rad ensemble — especially the kind of thing rarely available in size fat — is often worth it. With that in mind, the below American plus size brands are ones to keep an eye on.