How To Rock These 9 Bandanas All Summer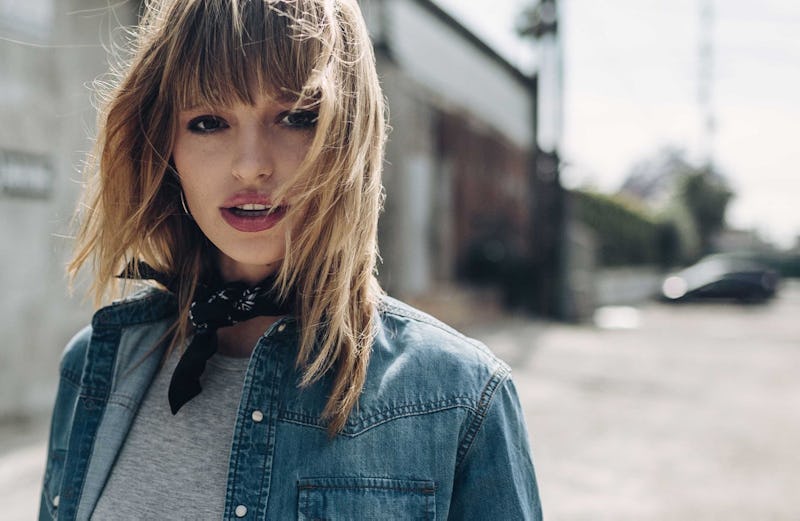 Bandanas are the It Accessory du jour for summer 2017, and they can take on completely different vibes depending on how you style them. But that's sort of the trouble — with so many potential ways to work one square of fabric, they can actually be a little intimidating to pull off. That's where stylist Lindsay Albanese comes in: She's here to share some of her favorite ways to style a bandana.
"There's a familiarity with bandanas that make them classically cool," says Albanese. "I like to fold it up into a 2-inch wide headband and tie it at the nape of my neck. I also love to wear it like a head scarf on my head with a bikini and high waist cut off shorts."
The fun thing about bandanas is that you can use the same accessory in endless ways: I've also seen them tied around wrists, purse straps, and even belt loops. Experimenting with how you wear it and what you wear it with is part of the fun.
"I love the contrast of wearing a bandana with tailored pieces like a button-up top or a blazer and jeans," says Albanese. "It adds an unconventional element that gives that street style sensibility."
Ready to take on the bandana trend in your own way? Channel your inner rockstar, hippie, or cowgirl (or all three) with these nine versatile picks.
DSTLD Cotton Paisley Bandana In Black, $20, DSTLD
This faded classic is a wear-with-anything wardrobe staple.
Madewell Bandana, $13, Madewell
Don't shy away from bright bandanas, says Albanese. "Think about a color you've been wanting to wear or a color trend that's happening right now and try that. It's an easy way to integrate color into your wardrobe without wearing it in your outfit," she says.
UO Floral Paisley Bandana, $8, Urban Outfitters
Equal parts delicate and edgy.
Levi's Pride Bandana, $18, Levi's
Hitting up Pride festivities this year? There's more than one reason to rock this bandana from the 2017 Levi's Pride Collection: 100% of proceeds go to the Stonewall Community Foundation and the Harvey Milk Foundation.
Free People Classic Frayed Bandana, $14, Free People
For a rough-around-the-edges look, literally.
J.Crew for David Sheldrick Wildlife Trust Elephant Bandana, $20, J.Crew
50 percent of the retail price of this scarf is donated to the David Sheldrick Wildlife Trust, which "rescues and protects orphaned elephants and rhinos in East Africa from ivory poaching and extinction," according to the site.
Carolina Mfg. Paisley Bandana, $4, REI
If you're looking for a bandana that's actually functional in the great outdoors, use this one to absorb sweat and clean off "trail grime." (Just me, or would this be perfect for a festival?)
Glamorous Printed Bandana with Rose Embroidery, $16, ASOS
This bandana features a pretty rose embroidered on the corner.
BP. Bandana, $6, Nordstrom
Can't decide? A classic red paisley bandana is the way to go.