The 9 Best Yoga With Adriene Videos, According To A Superfan
by Robert Moscato-Goodpaster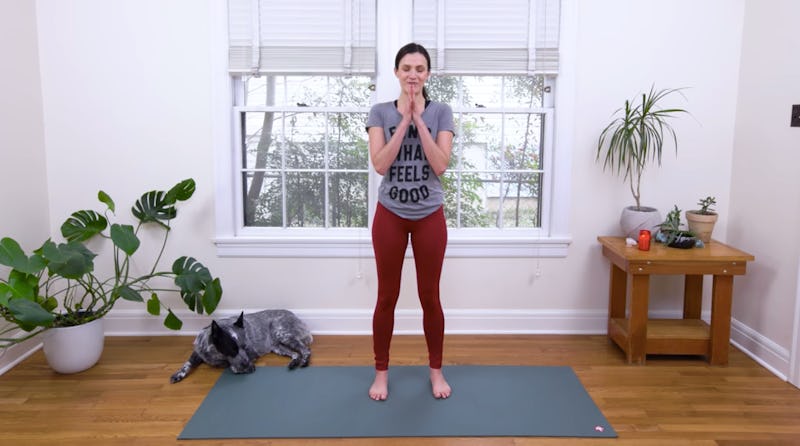 Yoga With Adriene/YouTube
If you're an at-home yoga doer, you probably have your go-to podcasts or YouTube channels that help you get your chill on. For me, that's Adriene Mishler's "Yoga with Adriene" videos. Adriene's mantra for the channel is "Find what feels good": when you're on the mat, you don't have to copy her moves exactly, but instead find, well, what feels good to you. With over 600 videos on her YouTube channel and new ones published regularly, there is truly something for everyone, but these nine Yoga With Adriene videos are my faves, speaking as someone who's watched a gajillion of them.
Three years ago, in a moment of curiosity in my dorm room, I pulled up YouTube on my computer and typed in "exercises for anxiety." After a few minutes of clicking around, I found the video "Yoga for Anxiety and Stress." Once I finished the 28-minute video, I was hooked. Since then, I've replaced my beach towel for a proper yoga mat, subscribed to her weekly newsletter, and even finished two of her 30-Day Yoga Challenges. After three years of doing YWA regularly, I've noticed that I'm more able to acknowledge my emotions. If I'm feeling sad or angry or anxious, I can roll out my mat and sit in this virtual safe space. This regular yoga practice has made a huge difference for me.
I'm not the only one who has found her approach to at-home yoga useful — there's nearly 7 million other subscribers out there. If you want to start getting into yoga, or refresh your practice, try one of these Yoga With Adriene videos and see if you become a superfan yourself.
This article was originally published on