9 Colourful AF Faux Fur Parkas To Keep You Snug As A Bug In A Rug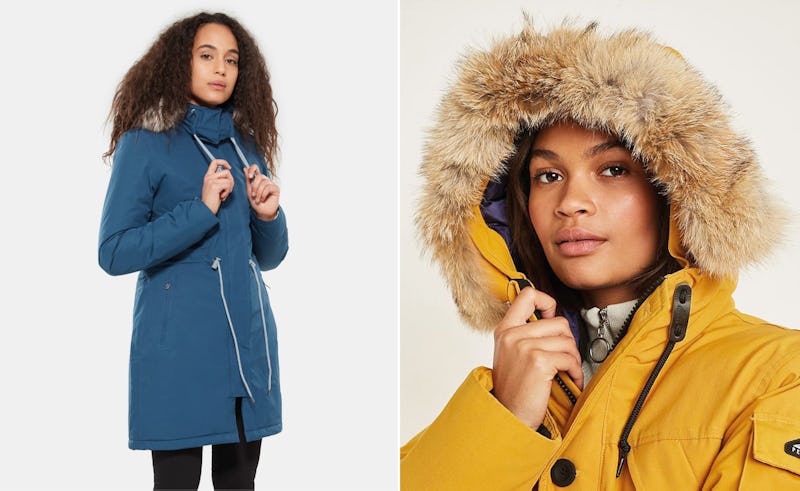 North Face / Urban Outfitters
While we've had a pretty mild winter so far, it's likely that a super chilly spell is on the horizon, especially in the lead up to Christmas. This season when it comes to outerwear, it's all about the two p's: parkas and puffers. While I love a puffer jacket, a parka is usually a little warmer, fluffier, and cosy. These best parka jackets with faux fur are sure to keep you snug while looking chic all winter long.
A parka can be styled in a number of different ways, making it a super versatile style for this time of year. While I love throwing one over a cosy knit, jeans, and biker boots, it also looks cool to offset a pretty floral dress. Classic parkas usually come in black and khaki, but increasingly, there are a bunch of colours to choose from, including bright yellows, muted burgundy, and deep blue. The styles with faux fur-lined hoods are ideal for all weather types and mean you can keep your umbrella at home.
The humble parka not only now comes in an array of bold and beautiful shades, but it is also available in a great range of lengths (from jacket styles to over-the-knee designs that'll keep your whole body warm) and fabrics. While some use puffer material, others stick to classic parka smoother fabrics.
I've scoured the internet to find the coolest parka jackets and coats online now for all budgets from brands such as Monki, Oasis, and Topshop. Keep scrolling to pick your perfect match.
This article was originally published on