9 Creepy Facts You Didn't Know About The Titanic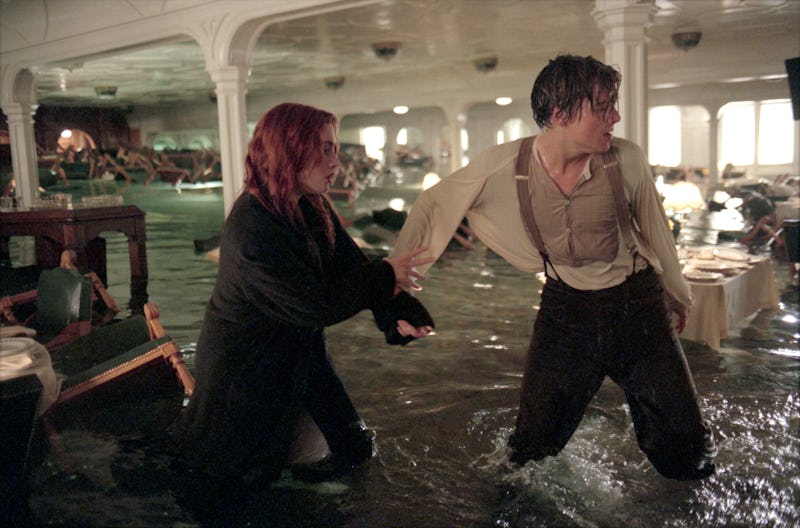 Paramount Pictures
Most of the details of the sinking of the Titanic are well-known. At 11:40 p.m. on April 14, 1912, the RMS Titanic struck an iceberg in the North Atlantic Ocean. Over the next two hours and 40 minutes, the ship filled with water and sank, killing more than 1,500 people, including a fictional young man whose girlfriend wouldn't make room for him on the door on which she was floating, even though there was clearly plenty of room. But the story of the Titanic is made up of so many more creepy facts that often get forgotten.
Here's some background in case, unlike me, you don't regularly watch the first half of Titanic and then stop and pretend everything works out. When the ship set off on her maiden voyage on April 10, departing from Southampton on the first leg of her journey to New York, she was the largest ship in the world, measuring 882 feet in length, and the largest man-made moving object on Earth. Her lavish facilities included a gym, pool, Turkish bath, and a kennel for first-class pups. There were 2,224 people on board, including poor emigrants from Armenia, Ireland, Italy, Sweden, Syria, and Russia, hoping to make a life for themselves in the United States, as well as some of the richest people in the world, like John Jacob Astor and Benjamin Guggenheim.
Four days after leaving from Southampton, the ship hit an iceberg while traveling through an area known as "Iceberg Alley." The collision tore an enormous gash through the hull, and the ship filled with water. While luxurious, the ship was ill-equipped to deal with such a disaster (they only had enough lifeboats for a third of the ship's total capacity). Only 705 of the over 2,000 people onboard survived.
While these basic numbers are stunning, as is often the case, the most striking details are found in the smaller stories, the tales of individuals who experienced one of the greatest maritime disasters in human history. Here are some of the most chilling facts about that tragic night, 105 years ago:
Check out the entire 'What's Up, Boo?' series and other videos on Facebook and the Bustle app across Apple TV, Roku, and Amazon Fire TV.