9 Crucial Ways California Is Standing Up To President Trump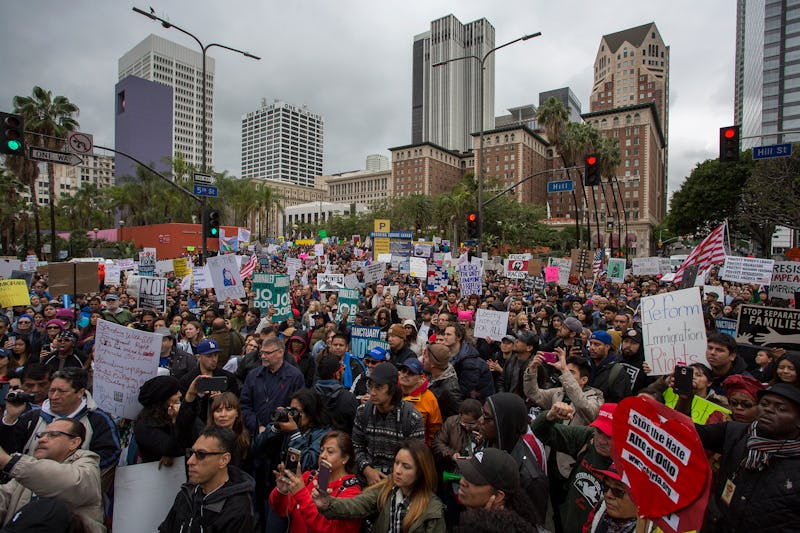 David McNew/Getty Images News/Getty Images
Since President Trump's election last year, protests and criticism of his presidency have come from across the country — and even around the world. But if there's one place more vocal in its distaste for the president than anywhere else, it's surely the most populous state in the U.S. California is thwarting Trump at every turn, from inside the legislature to out on the streets.
California might be the most populous state, but its support for Hillary Clinton in last year's presidential election wasn't enough for Democrats to keep the White House. Without the federal government that more than 60 percent of California voters voted for, California lawmakers and residents have taken matters into their own hands. At the state level, officials, led by Gov. Jerry Brown, have directly contradicted or blocked many of Trump's presidential actions, particularly when it comes to immigration and climate change. Meanwhile, residents have gathered in protest, further fueling the actions of their elected state officials.
California's resistance has not gone unnoticed. After all, there's a reason the president, shortly after being inaugurated, said, "California, in many ways, is out of control." Here are nine good reasons he may think that.
Climate Change
On Tuesday, the California governor signed an agreement with China for the state to work with the country on developing green technologies and reducing emissions. The move came less than a week after Trump announced he would pull the U.S. out of the internationally supported Paris climate accord. California has long been recognized as a leader in the fight to mitigate climate change, and it seems Trump's presidency won't change that.
Impeachment
Last month, the Los Angeles City Council voted unanimously to support impeachment investigations for Trump. Under the resolution, L.A. would support any legislative action to investigate the president for impeachable crimes. The resolution was passed before speculations arose that Trump could be impeached for allegedly asking former FBI director James Comey to end an investigation.
Sanctuary Cities
When Trump tried to limit federal funding from sanctuary cities, a federal judge in San Francisco blocked the initiative. The ruling came shortly after the Trump administration demanded proof from several so-called sanctuaries, including the California Board of State and Community Corrections, that they were cooperating with immigration enforcement.
Covfefe
This may not qualify as a "crucial" part of California's resistance, but it certainly starts a good conversation. When Trump tweeted the unintelligible word "covfefe," a California driver had the best response. The driver claimed the phrase as a personalized license plate. It's like a driving advertisement of Trump's Twitter fail.
Immigrant Defense
While fighting to remain a sanctuary state, California's lawmakers have put their money where their mouths are. According to TIME, the state Senate passed a bill that provides $12 million in funding to help immigrants secure legal representation in their deportation cases.
The Wall
In another immigration-friendly move, cities in California's Bay Area have reportedly passed measures that seek to prevent construction of Trump's border wall. According to TIME, Berkeley and Oakland have prohibited any business involved in construction of the border wall from securing city contracts.
Health Care
Just last week, the California Senate reportedly passed a bill paving the way for universal healthcare in the state. The so-called Healthy California Act would, according to Forbes, get rid of health care premiums and co-pays, making insurance available and affordable to all. The bill seems to be a rebuttal to the Republicans' health care plan at the federal level, which could remove protections for individuals with preexisting conditions.
Marijuana
Trump has not harshly gone after marijuana usage in states where it is considered legal, but California will be ready if he does. According to L.A. Weekly, a bill passed by the state Assembly would prevent local law enforcement from participating in marijuana raids carried out by federal agencies. Recreational and medicinal use of marijuana is legal in California.
Protest
While California lawmakers make it legally harder for the Trump administration to implement its policies, the state's residents haven't given up the fight either. Last month, a flash mob of about 200 people gathered on a Trump-owned golf course to spell out the word "resist." The message went viral online, showing the world California's commitment to opposing Trump.
California's resistance to the Trump administration isn't just symbolic — it may also be economically valuable. According to Bloomberg, California's support for clean energy has helped the state's and the nation's economy grow. In other words, by resisting Trump, California may actually be paying it forward.