These 'Everything, Everything' Quotes Are So Sweet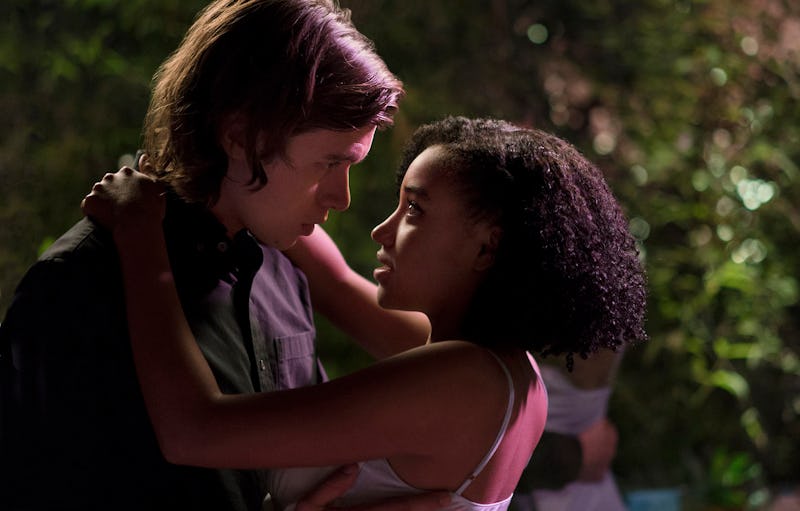 Where did all the teenage romances go? In the late '90s and early '00s, high school romances were everywhere. Now, superhero movies and Nicholas Sparks dramas have taken over the box office. This spring, the new teenage romance Everything, Everything is looking to change all of that. The movie, based on a young adult novel by the same name, is about a girl, Maddy, who can't go outside, and the mysterious new neighbor, Olly, who makes her want to. It's a sweet story of first love filled with even sweeter dialogue like these nine Everything, Everything quotes that are so sickeningly sweet, they'll either make your heart soar or give you a toothache.
In Everything, Everything, Maddy can't leave her house — her weak immune system means she's essentially allergic to everything — so a lot of her first interactions with Olly are via text. Not every text is an epic declaration of love, but damn it if some of Olly's texts don't sweep me off my feet. Needless to say, bros on Tinder could stand to learn a thing or two from Everything, Everything. In the meantime, if you love romance want to live vicariously through high school seniors in love, then you'll love these super sweet Everything, Everything quotes.
Compliments
"Hey Maddy...You're beautiful." — Olly
Olly literally just texts this message to Maddy for no good reason. This has never happened to me. I am jealous.
First Kiss
"Is it always like that?" — Maddy
"It's never like that." — Olly
Oh, to live inside a movie, where all first kisses are epic and not slobbery and awkward.
Outside
"When I talk to him, I feel like I'm outside." — Maddy
Maddy's love for Olly is so pure.
Life
"I'm messing up your life." — Maddy
"My life is better with you in it." — Olly
Seriously, Olly is the imaginary boyfriend we all wish we had.
Risk
"I'm willing to sacrifice everything just to live one perfect day." — Maddy
Maddy would literally die for love. I can feel my toothache coming on.
Love At First Sight
"I loved you before I knew you." — Maddy
And just when you thought it couldn't get any cuter...
First Love
"In my head, I know I've been in love before but it doesn't feel like it. Being in love with you is better than the first time. It feels like the first time and the last time and the only time all at once." — Olly
Are you crying? Oh, me neither.
Feeling Good
"Are you sure you feel fine?" — Olly
"Actually, I feel perfect." — Maddy
OK, normally I wouldn't say that "are you sure you feel fine" is all that romantic, but the fact that Olly is so concerned for Maddy's health is just about the sweetest thing I've ever seen.
Little Prince
"Hello Little Prince." — Maddy
Maddy says this to Olly right before they kiss. The Little Prince is her favorite book, hence the nickname. It's a bit weird considering she's calling the man she's about to kiss "Little Prince." We'll let that go, though, because it's also kind of cute.
Now that your heart is bursting with irrational affection for two fictional lovers, consider adding some romantic quotes to your life. If Olly and Maddy can text sweet nothings to each other, there's hope for all of us.