You Can Read 'Pride & Prejudice,' 'Anne Frank's Diary' & 7 Other Books In Graphic Novel Form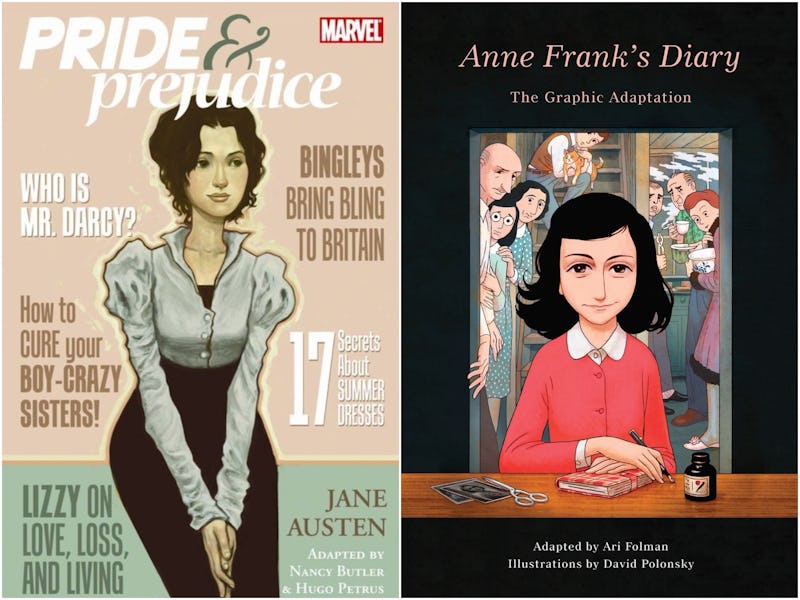 Classics are the books that have withstood the test of time, the books that have become pillars within our literary canon. Literature is filled with classic books whose stories that have lingered in the hearts and minds of readers everywhere. Good news for fans of the classics: there are tons of innovative graphic novels that are putting their own artistic twists on your favorite stories.
OK, so let's be real: as great as classics can be, they can also often be long, dense, and hard for contemporary readers to get through. But graphic novels are the exact opposite of that. Graphic novels are great at telling stories in ways that promote connection and discussion and engagement.
Plus, reading a classic novel in graphic novel form is a great way to taste the story without having to commit to a full, doorstop of a volume. By the same hand, maybe by reading a graphic novel adaptation of a classic, you'll be inspired to try out the original text.
So, whether you love Jane Austen or you're super curious about Oscar Wilde, take a look at these fantastic graphic novel adaptations of classic books from literature.