9 Immigration Organizations To Donate To In Support Of DACA Recipients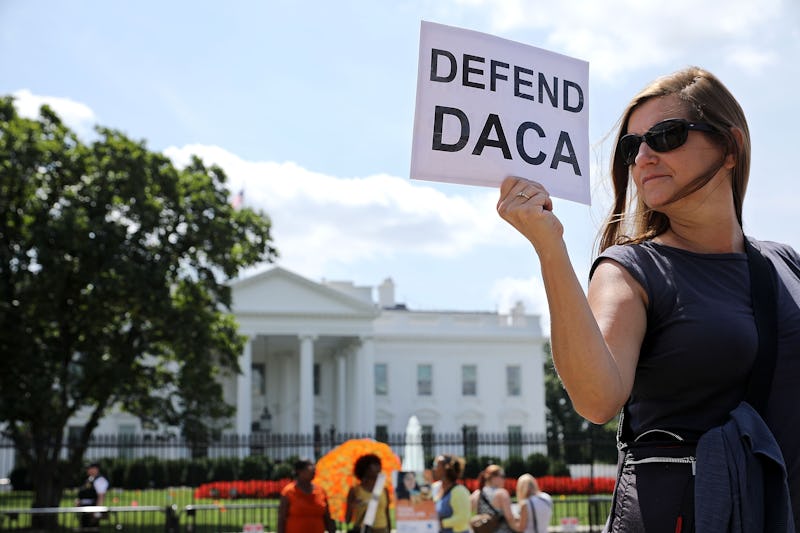 Chip Somodevilla/Getty Images News/Getty Images
The future of the Deferred Action for Childhood Arrivals (DACA) program faces precarity as a recent report published by Politico indicated that Donald Trump may be terminating the vital program in the next few days. Although DACA remains in effect at the moment, thousands upon thousands of undocumented youths' futures depends on Trump's official announcement tentatively set for Tuesday. The program constitutes an undeniably cogent framework for immigrants who were brought to the United States when they were children. If you want to help, here are immigrant organizations to that help DACA recipients. UPDATE: On Tuesday, Jeff Sessions announced during a press conference that the White House plans to "rescind" DACA.
For those who may not know, DACA is an immigration program which was signed in 2012 under former president Barack Obama's administration. The program functions as temporary respite for the young and undocumented immigrants of America by delaying deportation for them, helping Dreamers by giving them a chance to study and work in the United States.
Trump's very own record on DACA has been a wishy-washy one. Despite describing Dreamers as "terrific," the president's hostility to the program has put immigrants and their local supporters on the edge. His stance on DACA has been so controversial that even members of his own conservative party, like House Speaker Paul Ryan and Utah Sen Orrin Hatch, have implored him to re-think the tentative termination.
Although DACA is active at the moment, pro-immigrant organizations worry for its future so here are some organizations you can donate to to help Dreamers.
1. National Immigration Law Center
If you are in the position to monetarily help, you can donate to the NILC which assists in representing and shielding the rights of lower-income immigrants in America.
2. Border Angels
Border Angels focuses on promoting legislative immigration reform. You can donate to them and help increase social awareness about equality in immigration policies.
3. Immigrant Defense Project
The IDP offers advocacy resources and social awareness on immigration. If you want to support local Dreamers, you can donate to the IDP here.
4. Coalition For Humane Immigrant Rights Of Los Angeles
CHIRLA focuses on advocating labor rights for working undocumented immigrants. You can donate to the pro-immigrants organization right here.
5. National Immigration Forum
The NIF offers resources on equipping undocumented youths with the labor skills needed to land good and helpful jobs. You can help Dreamers by donating to the NIF here.
6. Young Center For Immigrant Children's Rights
Undocumented children remain the most vulnerable demographic potentially devastated by Trump's future plan to end DACA. To help the young ones, you can donate to the Young Center for Immigrant Children's Rights.
7. Mariposas Sin Fronteras
Children and young LGBTQ members of America's undocumented youths are some of the most vulnerable groups that could suffer if DACA is shut down by Trump. In order to help LGBTQ Dreamers, Mariposas Sin Fronteras offers social justice advocacy and bringing Dreamers out of detention centers on bond. You can help Dreamers by donating to Mariposas Sin Fronteras.
8. Northwest Immigrant Rights Project
The NIRP boasts a community of over 300 attorneys who offer to work pro-bono for Dreamers. You can help a Dreamer get legal help by donating here.
9. Families For Freedom
Families for Freedom help immigrants facing deportation, including young undocumented people. If you have the means to help, you can donate to FOF here.
Even if you don't have the financial resources to help, don't worry. You can still help by learning these eight facts about DACA and educating those around you.