8 DACA Statistics That Show How Vital Dreamers Are To American Society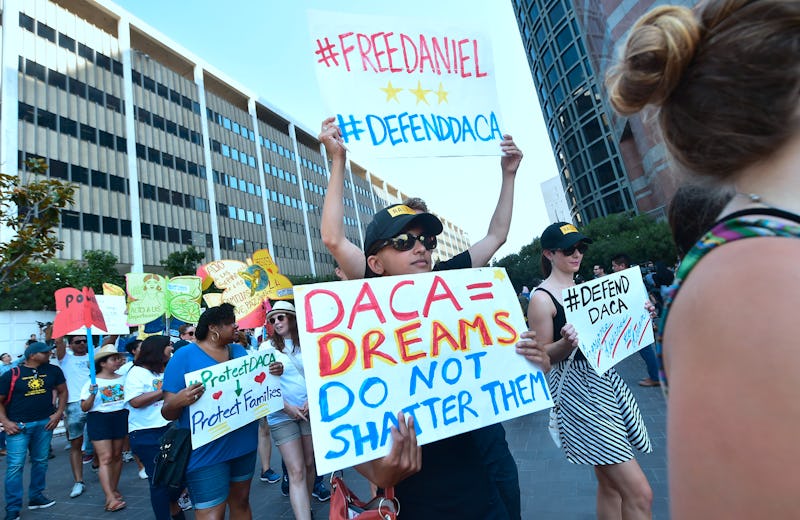 FREDERIC J. BROWN/AFP/Getty Images
A recent report published by Politico on Sunday suggested that Donald Trump had decided to terminate the Deferred Action for Childhood Arrivals (DACA) program by next week. The DACA program was signed in 2012 under former president Barack Obama's administration and has been a topic causing deeper ideological rifts between conservatives and liberals. Some oppose the program but many in the United States support the policy as it has been demonstrably beneficial for undocumented youths. If you want to learn more, here are eight statistics about DACA worth keeping in mind. UPDATE: On Tuesday, Jeff Sessions announced during a press conference that the White House plans to "rescind" DACA.
First, it's worth understanding what the program means and how it helps undocumented immigrants in America. DACA refers to the 2012 program that offers temporary respite from deportation to undocumented youths who arrived with their parents in the United States as children.
For many immigrants, it is the most humane form of policy that doesn't expose them to the perils of being displaced from the only country they've known all their lives. In spite of claiming that undocumented youths — more commonly known as Dreamers — are "terrific," Trump has fluctuated on the issue of DACA, causing concern for hundreds of thousands of immigrants and their futures.
In order to fight against the current administration's hostility toward undocumented youths, here are some facts that can help educate people.
1. DACA Has Helped Some 800,000 Undocumented Youths
According to the United States' Citizenship and Immigration Services, almost 800,000 undocumented youths have been helped by the DACA program.
2. Over 1 Million Are Eligible For DACA
The Migration Policy Institute estimated that at least 1 million undocumented youths were eligible for DACA in 2016 and could benefit from the program.
3. DACA Helps Immigrants Live Better Lives
According to a national survey conducted by the National Immigration Law Center in collaboration with the American Center for Progress, DACA recipients received "higher-paying jobs" after they received DACA.
4. DACA Also Helps American Economy
Data compiled by the American Center for Progress showed that after receiving DACA, immigrant youths were more likely to be employed. This employment has a positive impact on American economy by increasing business creation and allowing Dreamers to open their own enterprises, creating more job opportunities.
5. More Than 56 Percent of America Supports Dreamers
Dreamers aren't alone in their fight for keeping DACA alive. According to survey conducted by Politico and Morning Consult, almost eight out of 10 American voters support DACA and its benefits for young undocumented immigrants.
6. Without DACA, America Could Lose Billions In Revenue
Human lives take priority over corporate revenue but even if you look at the loss in capital gains, terminating DACA could result in the loss of billions of dollars, according to the American Center for Progress. According to the center, nearly $460 billion could be lost in the next decade if DACA is shut down by Trump.
7. Nearly 700,000 Could Lose Their Jobs Without DACA
The Center for American Progress also predicted that over 685,000 workers could lose their jobs if DACA is terminated by Trump's administration.
8. More Than 1,800 Public Officials Support DACA
As mentioned before, Dreamers are not alone. More than 1,800 political officials, including American mayors, state representatives, and judges along with others, are standing in favor of keeping DACA alive.
So, now you have at least eight facts to keep in mind while discussing DACA. In spite of Trump's pushback against the program, people are resisting anti-DACA sentiment throughout cities and states across the country, and it looks like the fight won't be over any time soon.
Read more on Trump's decision to end DACA:
The Trump Administration Officially Announces It's Ending DACA
Why Couldn't Obama Make DACA Law? Dreamers Have Had A Rough Ride
This Is Why You May Have Heard DACA Recipients Referred To As Dreamers
7 Ways To Help Dreamers Get The Support They Desperately Need Right Now
What Will Happen To Dreamers If Trump Ends DACA?
How To Call Your Representative About DACA & Ensure Trump Doesn't Get His Way