These 9 John McCain Quotes Show His Lifelong Dedication To His Country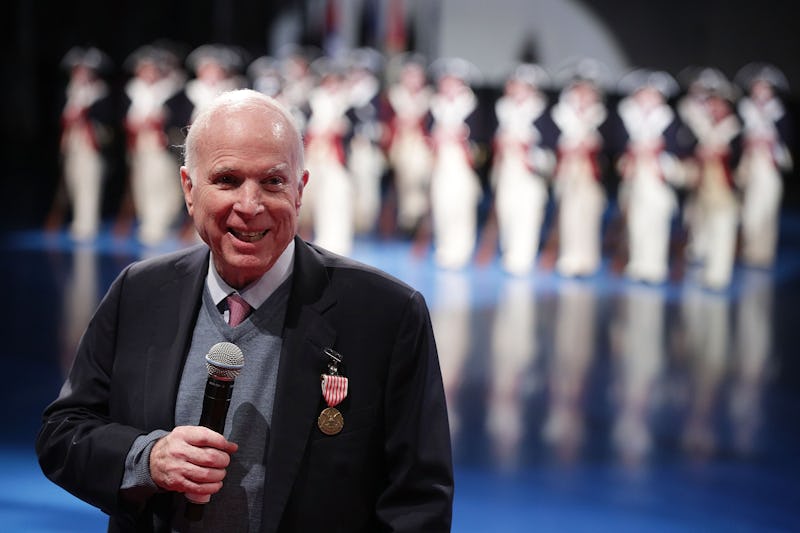 Alex Wong/Getty Images News/Getty Images
After over a year, Arizona Sen. John McCain decided to stop treatment for brain cancer in August. The 81-year-old senator passed away on Saturday, Aug. 25. CNN reported that although McCain's colleagues on Capitol Hill had been prepared for the worst for months, McCain's decision to bring his treatment to a halt nonetheless left them in shock. Tributes to the senator were circulated even before he died, and McCain's own quotes highlight his fierce dedication to his country.
McCain drew respect from both sides of the political aisle, with Republicans and Democrats alike offering him their support. In recent months, he was openly critical of Donald Trump's presidency; he condemned Trump's press conference with Russian President Vladimir Putin, and suggested that Trump was responsible for a chemical weapons attack in Syria.
Throughout his political career, McCain earned the reputation of being a maverick. In his pursuit of what he believed to be right, McCain occasionally voted against the Republican Party on important measures. He was a critical voice in opposing the repeal of Obamacare, and opposed tax cuts for the rich during his 2000 presidential campaign. From being a prisoner of war in Vietnam to pursuing bipartisanship in an increasingly divided Congress, McCain's political legacy spanned decades, and the following quotes show just how much he cared about his country — and how much he was willing to overlook partisan politics in favor of advancing reforms.